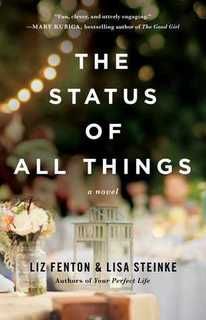 Synopsis:
What would you do if you could literally rewrite your fate—on Facebook? This heartwarming and hilarious new novel from the authors of
Your Perfect Life
follows a woman who discovers she can change her life through online status updates.
Kate is a thirty-five-year-old woman who is obsessed with social media. So when her fiancé, Max, breaks things off at their rehearsal dinner—to be with Kate's close friend and coworker, no less—she goes straight to Facebook to share it with the world. But something's changed. Suddenly, Kate's real life starts to mirror whatever she writes in her Facebook status. With all the power at her fingertips, and heartbroken and confused over why Max left her, Kate goes back in time to rewrite their history.
Kate's two best friends, Jules and Liam, are the only ones who know the truth. In order to convince them she's really time traveled, Kate offers to use her Facebook status to help improve their lives. But her attempts to help them don't go exactly as planned, and every effort to get Max back seems to only backfire, causing Kate to wonder if it's really possible to change her fate.
In The Status of All Things, Liz Fenton and Lisa Steinke combine the humor and heart of Sarah Pekkanen and Jennifer Weiner while exploring the pitfalls of posting your entire life on the Internet. They raise the questions: What if you could create your picture-perfect life? Would you be happy? Would you still be you? For anyone who's ever attempted—or failed—to be their perfect self online, this is a story of wisdom and wit that will leave you with new appreciation for the true status of your life.
Review:
This was a fun summer read (I seem to be enjoying a lot of magical realism this summer!). Kate discovers she is able to use her Facebook status to change her life and the lives of those close to her. As you can imagine, things don't always turn out the way she hopes, which leads to more wishes and more chaos.
Although I spent a lot of the book wanting to shake some sense into Kate, and tell her that changing herself to try to hold on the man who left her at the altar before she whisked herself back in time 30 days was just plain CRAZY, I was happy with the way the story played out. There is a lesson to be learned about social media vs. real life, the value of friends, and the importance of being true to yourself.
Rating: Five stars