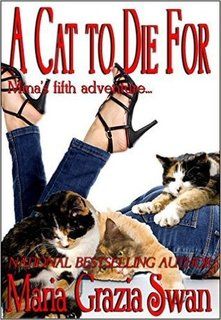 Synopsis:
Mina Calvi's new Furry Friends Foundation is a dream come true for the formerly footloose young woman. Her no-kill shelter rescues and places dogs and cats into new forever homes, and it gives Mina a purpose in life.
But changes are looming on a perfect Sunday afternoon at the Dana Point Marina where she is minding the adoption booth.
A Greek heiress, young, petite and beautiful, shows up on the arm of the love of Mina's life, Diego Moran. And worse, she wants to adopt Mina's calico cat, Houdini. The spoiled woman will not take no for an answer. Why is she so insistent on getting Houdini when she already owns a look-alike cat?
When Houdini is cat-napped, the cat-sitter murdered, and the ransom demand sent to the heiress, Mina has to keep her wits about her to get her beloved cat home safely, and to keep her heart from getting broken again by Diego, who inexplicably pops up at every turn of the unfolding drama.
Thoughts:
This is another wonderful read from Maria Grazia Swan. Its main focus is on Mina's new venture, finding homes for abandoned pets. Even the mystery involves one of the cats from the shelter, Houdini.
Mina and Diego are supposedly moving on, but they get thrown together again when Houdini is catnapped after being adopted by Diego's new girlfriend. Will they give in to the feelings they still feel for one another, or will they try to go their separate ways once and for all?
I still find Mina to be rash and immature at times, but she appears to be doing her best to fix that, with a little help from her friends.
**I received a copy of this book from the author in exchange for an honest review. All thoughts and opinions are entirely my own.**
My rating: Four stars