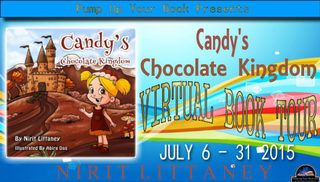 Title: Candy's Chocolate Kingdom (Book 1: Kingdom Fantasy Series)
Author: Nirit Littaney
Publisher: Nirit Littaney
Pages: 26
Genre: Children
Format: Kindle
Meet Candy, the cute girl who loves chocolate so much she dreams about it at night. Grab some sweets and follow Candy though a Magical Chocolate Kingdom that fills her belly and teaches her an important lesson about limits, after something very unexpected happens in the delicious empire.
Though the vivid illustrations are sure to make your mouth water, Candy's new understanding is the real treat even you can munch on!
Excellent for beginner's readers and children ages 3-6. Book 1 in the Kingdom Fantasy series.
This book is great for quick bedtime story or to be read aloud with friends and family!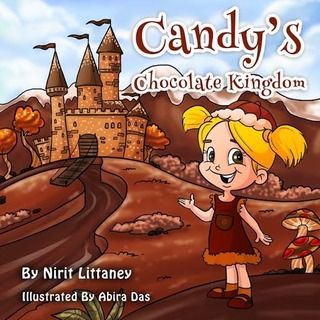 My review: Since most children love chocolate, they should be able to relate to Candy, the main character in this book. She dreams of a magical kingdom where everything is chocolate, but eventually discovers you really can have too much of a good thing!

This book will be useful in teaching children about limits and why they are important. The illustrations are beautiful, the writing flows well, and the story will keep children engaged all the way through. I would highly recommend this for parents, grandparents, teachers, etc.
I received a copy of this book in exchange for an honest review. All thoughts and opinions are entirely my own.

My rating: Five stars
For More Information
Nirit Littaney is a fresh, imaginative author who weaves vivid images and important life lessons into endearing stories for children. After being confined to her bed for years by an incurable illness, Nirit experienced the same triumph of spirit that many of her characters undergo in their journeys through lands near and far.
Nirit's commitment to personal and physical healing, along with her story-like travels around the world, have inspired her to pen inventive tales for families in search of humorous, insightful bedtime stories. She writes for children in hopes of making them giggle while they also learn a lesson or two.
Today, Nirit lives in Israel with her angel of a husband, who champions each of her new books as if he were the wide-eyed child she wrote them for. When Nirit isn't dreaming up new characters, she works as a nutritionist, medical coach, and spiritual leader. She is eager to inspire and help others with the lessons her own challenges have taught her—and what better way is there than through books?