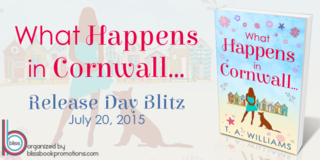 Book Information
Title: What
Happens in Cornwall...
Release Date: July 20, 201
5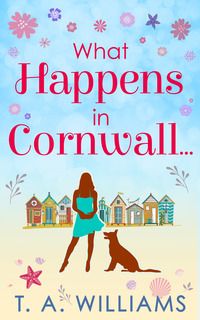 Summary
For a very British summer holiday…
When archaeologist Sam realises her relationship is as dead as the skeletons she's exhuming, she knows it's time to make a change. But with bills to pay her options are limited…until a discovery on Rock Island in Cornwall gives her a reason to escape…
Head to the Cornish coast!
In Cornwall, questions are thrown up at every turn: who is the glamorous owner of Rock Island that the paparazzi are so interested in? How has the irresistible, but impossibly arrogant, history professor James Courtney managed to get so far under Sam's skin? And will it ever stop raining so Sam can lose the cagoule and sip a cool drink in the sun? One thing's for sure: there's never been a holiday quite like this one!
Enjoy a summer of surprises and romance with What Happens in Cornwall…, the perfect retreat for fans of Fern Britton.
https://www.goodreads.com/book/show/25672068-what-happens-in-cornwall
Author Biography
Firstly, my name isn't T A. It's Trevor. I write under the androgynous name T A Williams because 65% of books are read by women. In my first book, "Dirty Minds" one of the (female) characters suggests the imbalance is due to the fact that men spend too much time getting drunk and watching football. I couldn't possibly comment. Ask my wife...
I've written all sorts: thrillers, historical novels, short stories and now I'm enjoying myself hugely writing humour and romance. Romantic comedies are what we all need from time to time. Life isn't always very fair. It isn't always a lot of fun, but when it is, we need to embrace it. If my books can put a smile on your face and maybe give your heartstrings a tug, then I know I've done my job.
I've lived all over Europe, but now I live in a little village in sleepy Devon, tucked away in southwest England. I love the place. That's why you'll find leafy lanes and thatched cottages in most of my books. Oh, yes, and a black Labrador.
I've been writing since I was 14 and that is half a century ago. However, underneath this bald, wrinkly exterior, there beats the heart of a youngster. My wife is convinced I will never grow up. I hope she's right.
a Rafflecopter giveaway