The Lives Between Us
is about family and love. It's about desperate people doing what they need to, to save the ones they love.
Grief-stricken reporter, Skylar Kendall, plots revenge on Michigan Sen. Hastings who opposed life-saving stem cell research and therapy. She gains access to Hastings, learning secrets that would launch her career and satisfy her need for retribution… Only, she hadn't counted on falling in love.
Can she avenge the lives lost to politics at the expense of her new love and friends?
My review:
This is the third book I've read by this author, and I can definitely say that I am a HUGE fan! She writes about families and real life situations in ways that the average reader can relate to them. This book deals with several emotional issues: the death of a child, the debate over stem cell research, having another child as a way of saving a sick child, high-risk pregnancy, etc. It's tough to read in places, because of the emotion involved, but it's well worth it. The best part of the book, for me, was seeing Skye, the main character, grow and develop as a person over the course of time. In the beginning, there were times I just wanted to smack her, but that got better as the story progressed. Of course, there is also romance throughout the story, with the usual conflict and resolution....but for me, that was secondary. If you are interested in any of this issues listed above, I would definitely recommend reading this story! **I was given a copy of this book by the author in exchange for an honest review. All thoughts and opinions are entirely my own.**
My rating: Five stars
Thanksgiving morning, Skye slipped into her favorite pair of worn jeans and
a
warm cotton sweater
.
She considered boots,
then
abandoned
them for sneakers
.
She wante
d no memories of Mark today. Sky
e collected her winter coat from the closet, slid her hand through
the handles of a
Macy's
shopping
bag
,
and headed for her car
.
She parked down a residential side street across from the little cemetery on
Moross
R
oa
d
.
Taking the soft brown teddy bear from the bag,
Skye
crossed the street and entered the quiet graveyard.
Sh
e
strolled
down the familiar path
.
Stones crunched under her feet as she made her way around barren towering oaks, past dozens of tombstones to the small white marble headstone that marked
Niki's
resting place
.
She crossed her legs and folded down to sit on the cold grass. Sighing, Skye crushed the teddy bear against her aching chest
,
then
lifted
her face to the crisp breeze that held more than a hint of winter's bite
.
"Hey
,
kiddo
.
I miss you
so much
."
Brown, limp flowers slumped over the sides of the plastic vase embedded in the ground in front of
Niki's
headstone
.
Next time she'd bring her bright silk flowers that would last through th
e cold winter—perhaps pansies. P
ansies were happy flowers
.
A gray squirrel scrambled headfirst down
a nearby tree
.
In brief bursts, he galloped near, never taking his eyes from Skye, as if hoping she'd brought him a treat
,
too
.
"Sorry, buddy
.
I'm all out."
As if he understood, the ground squirrel twitched his tail twice, and then scampered off to see what goodie he could uncover in a pile of leaves
.
"It's Thanksgiving today
,
and right now I'm having a little trouble mustering u
p any feelings of gratitude." Skye bowed her head.
"Though we miss you every day, I guess I'm grate
ful you're not hurting any
more
.
I have to believe you're happy and free of pain in he
aven.
"You have lots of friends. You jump rope, jump on the trampoline, play baseball, basketball—even soccer
for hours on end without running out of breath, and Grandma and Grandpa love you to distraction.
"
Skye bit her lower lip
, thinking about the turmoil of her love life
.
She cuddled the soft bear closer
.
"Actually, you might be the lucky one
.
Life's hard.
"
Skye eased her chin down on the top of the bear's head
.
"It just is."
The sound of crunching leaves behind her left Skye conflicted; she wanted to be alone and hoped if she ignored the person
he'd
leave her in peace—yet strong self-preservation
instincts shouted in alarm. Sky
e glanced over her shoulder and relaxed as
Peter
's familiar figure neared.
He smiled and squatte
d. "Thought I might run into
you here."
She shrugged
.
"It's a good place to think."
Peter
settled down
.
With his back supported by
Niki's
headstone, he faced her, as comfortable as if they sat on the carpeted family room floor in front of a crackling fire
.
"What's on your mind?"
Sky
e forced a smile to her lips
.
"Happy Thanksgiving."
He nodded
.
"What's the matter?"
Skye didn't want to burden
Peter
with her problems
.
With his whole family in the hospital and bills quickly mounting, he had
more than
enough to worry about.
"Does it have to do with the boyfriend?"
Her head jerked up
.
"Faith told you about Mark?"
He nodded
.
Picking up a leaf,
Peter
twisted the stem between his thumb and index
finger, making the leaf twirl
in his grasp
.
"She likes him."
"Until
..." Peter
listened silently as Skye told him about the way Mark had duped her
.
He'd always been a great listener
. Peter
thought about what she'd said, and then looked at her
.
"Is he sorry?"
"Don't answer so quickly. T
hink about it.
" Peter paused. "
Do you
really
think he's genuinely sorry?"
Skye thought back through the past five days.
Mark
had called
each day, leaving her messages
ranging
from apologies, to invitations, to chatty just-calling-to-make-sure-you're-all right messages
. He wasn't giving up on her.
"I
think
he
believes he's sorry, but he ma
de a fool of me. We were close." Embarrassed, she ducked her head and didn't look at her brother-in-law. "He
lied."
"Everybody makes mistakes. How'd you feel
this past
week without him?
"
"Miserable.
"
Skye drew her knees up to her chest
.
"I miss him.
"
His laughter, his teasing, his love
.
"I don't
want
to.
I don't want to be that pitiful woman who needs a
man. But I do miss him
.
" She whispered the admission.
"And if you forgive him
, w
ould your life be better or worse?"
"I sup
pose it'd be better
. B
ut
...
"
Peter
moved his hand over
his
daughter's headstone as if reading the in
scription by Braille. Lord knew
Peter
had
the message
memorized. The text
remain
ed
a permanent etched scar on his heart—just as it was on hers
.
Peter looked at Skye, his blue eyes so like
Niki's
that she couldn't look away.
"Skye, so much happens in life that we have absolutely no control over, but this you do
.
Life's too short to hold grudges
, sweetheart
."
"This isn't a grudge.
"
'Grudge' sounded so petty and small
. Skye
wasn't a small person. She knew
Peter's
advice was couched in the framework of their losing Niki, but they weren't the same at all.
"Other than this one time, has he been respectful toward you?"
Skye thought about the way Mark always held doors open for her, warmed her when he thought she was cold, listened to her work/family problems, helped out with his godson, and made her laugh. Other than this major lie, she had to admit that Mark was almost too good to be true. She nodded.
"All right then.
This is really all about fear and power
.
You're afraid that if you forgive him, you'll be setting yourself up to get hurt
again
—yet you're miserable without him.
"
Skye reluctantly nodded
again, not caring for his assessment
.
She sounded like
those
pitiful women
who wrote to Dear Darlene
.
"In reality, in refusing to forgive
Mark
, you're giving him power over you
. You'
re
choosing
to be the victim here
.
You're giving
Mark
the power to make you happy or to wound you
.
Power he may or may
not even want, but still
—
you are gifting him that power.
"
Peter
bent his head and peered into her
eyes
as if reading the truth in her soul.
"Skyl
ar, you'
re a strong
,
smart
woman
.
You know better than to loo
k to others to make you happy. I
t has to come from within.
"
He pointed an index finger at her
chest.
"Only you can make you happy,
Squirt
.
"If you think Mark is basically a good human being, then put yourself out of your misery and forgive t
he guy.
I'm not perfect
.
You're not perfect
.
Why should you expect him to be?"
Sky
e shrugged again.
Words raced around her head, yet she couldn't seem to articulate a defense. Lord, she hated it when Peter was logical. And right.
"What's the worst
that can happen?"
"He can hurt me again," she mumbled, feeling silly and childish.
"He probably will.
" Peter
nod
ded.
"Just as you'll probably hurt him one day
too.
That's part of relationships
.
That's part of life."
"I'm afraid, okay?" Sky
e
lifted her defiant gaze to glare at Peter.
"I admit it
.
I don't want to get hurt."
"Well who does?
Nobody enters a
ny
relationship hoping to be hurt.
" Peter
stared off, his
expression becoming
blank,
lost in the ghosts of t
he graveyard. "Loving someone'
s risky, yet at the same time there are enormous rewards in it
.
You just have to believe that the good far outweighs the
bad
.
"
With his wife almost dying t
wice, and lo
sing his daughter,
Peter
was an expert at risking his heart.
Now he had to face that risk all over again
in loving
his new little twins
.
If
Peter
could be
brave enough to face that, she should be able to forgive Mark.
Peter
sighed and plucked the fading grass at his feet
.
"Life without fe
eling is not worth living. U
nfortunately
,
ya
gotta
take the good with the bad, Squirt
.
That's just how it goes."
They sat in silence for a few moments, each lost in thought
.
Skye got up and squeezed
his
shoulders
.
"Thanks."
Peter
stared straight ahead, yet his hand caressed the base of his daughter's headstone
,
and he blinked back tears
.
He nodded.
Peter
swallowed hard and pinched the bridge of his nose before slowly nodding
.
"
Ya
gotta
take the good with the bad.
"
Tears leaked out of the corners of
Peter's
eyes and tracked down his
cheeks
Skye pressed the bear into his arms and kissed the
top
of his head, whispering, "Love you
.
Give him to
Nik
when you're through."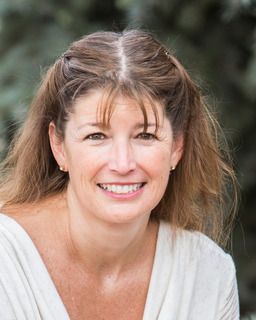 Theresa Rizzo is a bestselling, award-winning author who writes emotional stories that explore the complexity of relationships and families through real-life trials. 
Born and raised in Grosse Pointe, Michigan, she currently lives outside of Boulder, Colorado with her husband of thirty
-two
years. She's raised four wonderful children who are now scattered across the country.
Theresa's debut book,
He Belongs to Me
, won the 2014 National Indie Excellence Award for romance and the 2014 Readers Crown Award for Mainstream Women's Fiction and was a finalist in the General Fiction Category of The 2013 USA Best Book Awards. 

"
Wow! This book has it all: a current political topic, a steamy love story, a family in peril, and lots of plot twists! I was drawn into the controversy along with Skye. Powerful characters round out this incredible read!
" Melissa Camp, Librarian