Destination: Bask in the simplicity of a small town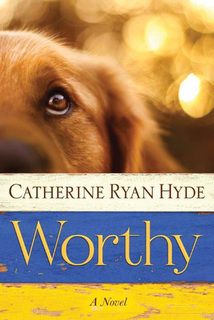 Synopsis: They might've been a family.
Virginia finally had the chance to explore a relationship with Aaron when he asked her on a date. She had been waiting, hoping that the widower and his young son, Buddy, would welcome her into their lives. But a terrible tragedy strikes on the night of their first kiss, crushing their hopes for a future together.
Nineteen years later, Virginia is engaged though she has not forgotten Aaron or Buddy. When her dog goes missing and it comes to light that her fiancé set him loose, a distraught Virginia breaks off the engagement and is alone once again. A shy young man has found the missing pet, and although he's bonded with the animal, he answers his conscience and returns the dog. Before long, Virginia and the young man discover a connection from their pasts that will help them let go of painful memories and change their lives forever.
My review: This is the story of Virginia, Jody and the dog, Worthy. Over the course of the novel, we see the growth and maturing of Virginia and Jody, as well as the loyalty of Worthy. The plot is rather predictable, but it is still well written. The emotions of this story are intense--love, grief, anxiety, anger, happiness. The characters are well-defined, and the dialogue is realistic. As you read this novel, and see how the lives of the characters are changed, you may find your own life changed as well.

**I received a copy of this book in exchange for an honest review. All thoughts and opinions are entirely my own.**
My rating: Four stars
About the author:
I'm the author of 28 published and forthcoming books.
My newest releases are The Language of Hoofbeats, Take Me With You , Where We Belong, Walk Me Home, Subway Dancer and Other Stories, When You Were Older, Don't Let Me Go, When I Found You, Second Hand Heart, The Long, Steep Path: Everyday Inspiration From the Author of Pay It Forward, Always Chloe and Other Stories, and 365 Days of Gratitude: Photos from a Beautiful World.
Pay It Forward: Young Readers Edition, an age-appropriate edited edition of the original novel, was released by Simon & Schuster in August of '14. It is suitable for children as young as eight.
I have two forthcoming new novels due out in 2015 from Lake Union/Amazon Publishing, Worthy and Joseph Came Home.
Other novels include Jumpstart the World, Becoming Chloe, Love in the Present Tense, The Year of My Miraculous Reappearance, Chasing Windmills, The Day I Killed James, and Diary of a Witness.
I am co-author, with publishing industry blogger Anne R. Allen, of How to be a Writer in the E-Age: a Self-Help Guide.