Destination: Cross the pond to London.
Synopsis: June, 1998:
At twenty seven, Catherine Coombs, also known as Cat, is struggling. She lives in London, works as a journalist, and parties hard. Her lunchtimes consist of several glasses of wine at the bar downstairs in the office, her evenings much the same, swigging the free booze and eating the free food at a different launch or party every night. When she discovers the identity of the father she never knew she had, it sends her into a spiral. She makes mistakes that cost her the budding friendship of the only women who have ever welcomed her. And nothing is ever the same after that.
June, 2014:
Cat has finally come to the end of herself. She no longer drinks. She wants to make amends to those she has hurt. Her quest takes her to Nantucket, to the gorgeous summer community where the women she once called family still live. Despite her sins, will they welcome her again? What Cat doesn't realize is that these women, her real father's daughters, have secrets of their own. As the past collides with the present, Cat must confront the darkest things in her own life and uncover the depths of someone's need for revenge.
My review: A fascinating page-turner, this novel shares a look into the world of an alcoholic. The novel starts with Cat refusing to admit she has a problem, at least until she finds herself in a situation that is definitely her "rock bottom." From there, we see Cat in recovery. Not only are there descriptions of AA meetings, but we also get to see Cat working through the twelve steps. Much of it deals with Cat's work on the ninth step, making amends, specifically with her half-sisters.
All of the characters are very well-developed, and the settings are exquisitely described. It's a great summer read if you are looking for a family drama with life lessons for everyone.
**I received a copy of this book from BookSparks as part of the Summer Reading Challenge, in exchange for an honest review. All thoughts and opinions are entirely my own.**
My rating: Five stars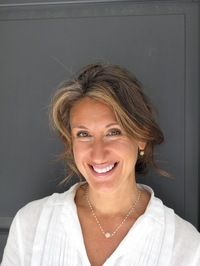 Jane Green's fifteenth novel, Tempting Fate, is soon to be released; she is the author of fourteen previous New York Times Bestselling novels. Initially known for writing about single thirty-somethings, she has gone on to write mature stories about real wo
A former feature writer for the Daily Express in the UK, Green took a leap in faith when she left, in 1996, to freelance and work on a novel. Seven months later, there was a bidding war for her first book, Straight Talking, the saga of a single career girl looking for the right man. The novel was an immediate top-ten bestseller in England, and Green was an overnight success.
Now in her forties, Green has graduated to more complex, character-driven novels that explore the concerns of real women's lives, from marriage (The Other Woman) to motherhood (Another Piece of My Heart) to divorce, stepchildren, affairs, and most recently, midlife crises (Family Pictures and Tempting Fate).
She joined the ABC News team to write A Modern Fairytale - their first enhanced digital book - about the history of Royal marriages, then joined ABC News Radio as a live correspondent covering Prince William's wedding to Kate Middleton. She has written a micro-series for Dove starring Alicia Keyes, many short stories, and has contributed to various anthologies, as well as regularly appearing on television shows including Good Morning America, The Martha Stewart show, and The Today Show.
Together with writing books and blogs, she contributes to various publications, both online and print, including Huffington Post, The Sunday Times, Cosmopolitan and Self, has taught at writers conferences, and does regular keynote speaking.
A foodie and passionate cook, Green filled one of her books, Promises to Keep, with recipes culled from her own collection. She says she only cooks food that is "incredibly easy, but has to look as if you have slaved over a hot stove for hours." This is because she has six children, and has realised that "when you have six children, nobody ever invites you anywhere."
Most weekends see her cooking for a minimum of twenty people in her home in Westport, Connecticut, where she lives with her husband and their blended family. When she is not writing, cooking, gardening, filling her house with friends and herding chickens, she is usually thanking the Lord for caffeine-filled energy drinks.