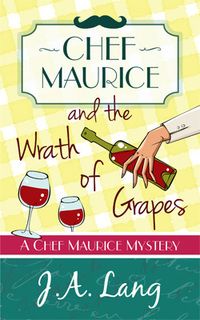 Genre: Cozy Mystery (English Village, Culinary)
File Size: 489 KB
Print Length: 168 pages
Publisher: Purple Panda Press (July 13, 2015)
ASIN: B00WET7X64
Synopsis: In the rarefied world of wine collecting, murder isn't exactly a barrel of laughs…
An invitation to dinner at the home of renowned wine collector Sir William Burton-Trent soon finds Chef Maurice in the middle of an all-too-real murder mystery party, when Sir William is found dead in his own wine cellar.
The guests are acting all innocent, but which one is only playing the part? The pushy Californian film director? The seductive French winemaker?
Or could it be, against all narrative decency, the butler who did it?
With the help of food critic friend Arthur

Wordington

-Smythe, a large

kipper

sandwich, and the newly formed Cochon Rouge Wine Appreciation Society, Chef Maurice must get to the bottom of matters before events turn decidedly sour…
My review: Chef Maurice and his kitchen staff are back, along with critic Arthur and PC Lucy. Ms. Lang is a wonderful storyteller, and this installment is no exception. She kept me guessing till the very end as to the identity of the murderer.
Chef Maurice is a real character, in every sense of the word. He is quickly becoming one of my favorite cozy mystery heroes. I also enjoy the budding romance between Patrick and Lucy.
Thanks to Ms. Lang, I learned a great deal about wine lore--and the food described in her books always sounds SO delicious. I'm already looking forward to the next book, Chef Maurice and the Bunny-Boiler Bake Off, due out in October.
I received a copy of this book from the author in exchange for an honest review. All thoughts and opinions are entirely my own.


About the author:
J.A. Lang is the author of the Chef Maurice Mysteries, set in the fictional Cotswold village of Beakley, conveniently located within driving distance of her home in Oxford, England. She lives with her husband, an excessive number of cookbooks, and a sourdough starter named Bob.
Her favourite authors include Agatha Christie, P.G. Wodehouse and Terry Pratchett.
When not at her writing desk, she enjoys cooking, eating, travelling to places with good food, drinking good wine, and thinking about her next meal. (Please note that any similarities between J.A. Lang and her main character, Chef Maurice, are purely coincidental.)