Midsummer Night's Mischief
(A Wiccan Wheel Mystery)
Cozy Mystery
1st in Series
Kensington (July 26, 2016)
Mass Market Paperback: 352 pages
ISBN-13: 978-1496704924
E-Book ASIN: B017G7HEIA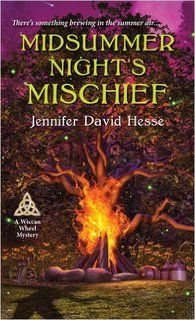 Synopsis:
As the Summer Solstice approaches in idyllic Edindale, Illinois, attorney Keli Milanni isn't feeling the magic. She's about to land in a cauldron of hot water at work. Good thing she has her private practice to fall back on–as a Wiccan. She'll just have to summon her inner Goddess and set the world to rights. . .
Midsummer Eve is meant for gratitude and celebration, but Keli is not in her typically upbeat mood. The family of a recently deceased client is blaming her for the loss of a Shakespearean heirloom worth
millions,
and Keli's career may be on the line. With both a Renaissance Faire and a literary convention in town,
Edindale
is rife with suspicious characters, and the intrepid attorney decides to tap into her unique skills to crack the case. . .
But Keli weaves a tangled web when her investigation brings her up-close and personal with her suspects–including sexy Wes Callahan, her client's grandson. The tattooed bartender could be the man she's been looking for in more ways than one. As the sun sets on the mystical holiday, Keli will need just a touch of the divine to ferret out the real villain and return
Edindale
, and her heart, to a state of perfect harmony. . .
Review: This is a fun new concept for a cozy mystery series. The main character is an attorney who is also a Wiccan (a fact she keeps hidden from most of the rest of the world). It's fascinating to see how she manages to keep the two important parts of her life so separate.
I also liked that the mystery of this book didn't involve a murder. There is a death, but it's not the center of the mystery--the center is a stolen heirloom, and the many family members of the deceased who are suspects.
The relationship between Keli and Wes is full of ups and downs, especially when she suspects him of being the thief. I'm looking forward to seeing how their relationship plays out in future books.
This is a very entertaining read, and the mystery will keep you guessing right up to the final reveal.
**I received a copy of this book in exchange for an honest review. All thoughts and opinons are entirely my own.**
Rating: Four stars
About the author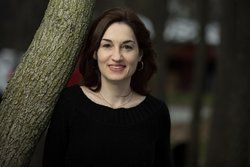 Jennifer David Hesse is the author of the Wiccan Wheel Mysteries, a cozy mystery series published by Kensington Books.
Like her main character, Jennifer is also a lawyer, an English major, and a vegetarian. Unlike Keli, Jennifer is not a twenty-nine-year-old single lady, and she does not practice family law. (Jennifer's legal focus is environmental law.)
As a nature-loving, mystery-reading, magic-seeking, daydreaming kinda gal, Jennifer is thrilled to be able to write fun, lighthearted whodunits ~ with a touch of romance & a hint of magic. Midsummer Night's Mischief is her debut novel.
Born and raised in Central Illinois, Jennifer now makes her home in Chicago with her husband, jazz guitarist Scott Hesse, and their daughter, Sage. When she's not working or writing, Jennifer enjoys yoga, hiking, and movie & pizza night with her family.
a Rafflecopter giveaway