Genre: Amish Fiction
Series:

Neighbors of Lancaster County (Book 2)

Paperback:

384 pages

Publisher:

Bethany House Publishers (February 2, 2016)

Language:

English

ISBN-10:

0764215248

ISBN-13:

978-0764215247
Synopsis:
Can These Two Friends from Opposite Worlds Find Love?
They've been best friends for years, but as high school ends, Zane Beck can't help but look at his Amish neighbor, Lila Lehman, with different eyes. Her controlling father sees only one future for Lila, though, and arranges for her to be courted by an upstanding young Amish man. When Zane sees the two together, his plans for the future crumble, and he impulsively enlists in the Army, following in his father's footsteps.
However, the passing of years and the distance between them isn't enough to halt their now hidden feelings for each other. If being together used to be difficult, it's now impossible, especially with the Amish opposed to war. Zane's service takes a dramatic turn when he's sent to Afghanistan. Being on the front line and the reality of taking a life has him questioning whether he can continue to serve or not. But all choices have consequences--both his and hers. With Lila preparing to marry another, will these one-time sweethearts ever find the life together that they both still long for?
Review: Although this is the second book in the series, it is easily read on its own merit. The story of Lila and Zane is one of misunderstandings and complications, as Lila is Amish and Zane is not. The author does a wonderful job of exploring both cultures, revealing their similarities as well as their differences.

There is a fair amount of prayer in the story, and relying on God for guidance. It also emphasizes love, faith, and commitment. It shows that we need to wait on God's time and not try to impose our own wants on Him.

I thoroughly enjoyed this story, and can't wait to see what is going to happen next!
Rating: Four stars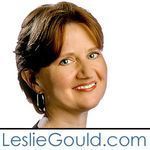 Leslie Gould is the #1 bestselling and Christy Award winning author of twenty-two novels. She received her MFA from Portland State University and teaches writing at Warner Pacific College. Leslie enjoys traveling, hiking, and history. She and her husband, Peter, are the revolving-door parents of four children and three cats. Visit her at
http://www.lesliegould.com/
.