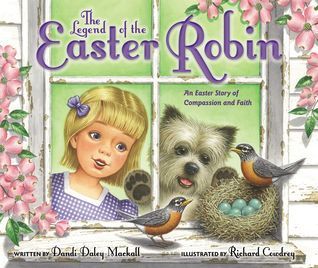 Age Range:

4 - 8 years

Grade Level:

Preschool - 3

Hardcover:

32 pages

Publisher:

Zonderkidz (January 26, 2016)

Language:

English

ISBN-10:

0310749646

ISBN-13:

978-0310749646
For More Information
Synopsis:
This newly illustrated edition of
The Legend of the Easter Robin
renews the wonder and charm of the original and timeless tale written by Dandi Daley Mackall. With new vibrant artwork from
New York Times
bestselling illustrator, Richard Cowdrey, this holiday classic is brought to life for a new generation.
The Legend of the Easter Robin
tells the story of Tressa, whose grandmother reveals to her the story of a small robin who saw Jesus struggling and soared to help him. This Easter tale reminds Christians everywhere how much Jesus sacrificed for us and how much he loves us.
Review: There are so many wonderful things to say about this book, I hardly know where to begin. I suppose the best place is with the cover, as that is what caught my eye. It is brightly colored, with a picture from the story which will draw you in right away. The embossed lettering of the title adds to the elegance of the cover.
The illustrations inside the book are just as colorful and enticing. They are all full page illustrations as well, which is a plus for young children. There is a lot of detail in each picture, which encourages non-readers to pore over the book time and again, finding new things each time they look.
Throughout most of the book, the text is kept off to one side or the other, with just a few short paragraphs on each two page layout. In the section which tells the actual legend (which is a story I vaguely recall hearing in my childhood), the text is included over a section of the illustration--and those illustrations are much darker in color, as befits the story being told.
All in all, this is a wonderful book to share with children during the Easter season.
**I received a copy of this book in exchange for an honest review. All thoughts and opinions are entirely my own.**
Rating: Five stars
About the author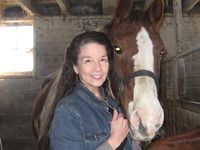 A professional writer for over 20 years,
Dandi Daley Mackall
has written dozens of articles for popular magazines and published around 400 books for children and adults alike, with sales of over 4 million.
A frequent guest on radio and television talk shows, she lives in rural Ohio with her husband, three children, horses, dogs, & cats.