(Oxford Tearoom Mysteries ~ Book 1)
Genre – Cozy Mystery
Self-Published
• Number of Pages: 360
ISBN-10:

099429249X

ISBN-13:

978-0994292490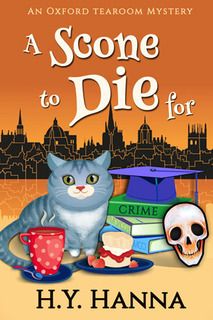 Synopsis:
FIRST IN A NEW SERIES!
When an American tourist is murdered with a scone in Gemma Rose's quaint Oxfordshire tearoom, she suddenly finds herself apron-deep in a mystery involving long-buried secrets from Oxford's past.
Armed with her insider knowledge of the University and with the help of four nosy old ladies from the village (not to mention a cheeky little tabby cat named Muesli), Gemma sets out to solve the mystery—all while dealing with her matchmaking mother and the return of her old college love, Devlin O'Connor, now a dashing CID detective.
But with the body count rising and her business going bust, can Gemma find the killer before things turn to custard?
(**Traditional English scone recipe included)
Review: First in a new series, and one that I'm sure I'm going to enjoy as long as it continues. The main character, Gemma, is very personable, as are all the supporting characters. Her technologically clueless mother is hilarious, as are the four old ladies who think they are all Agatha Christie.
The story is very well-written and nicely paced. The plot kept me guessing as to the killer until the very end. I enjoyed every minute spent reading it.
There are British spellings and British language usage in the book, but there is a dictionary of British terms in the back of the book, which is helpful. There is also a traditional scone recipe included, which I plan to try soon.
About the author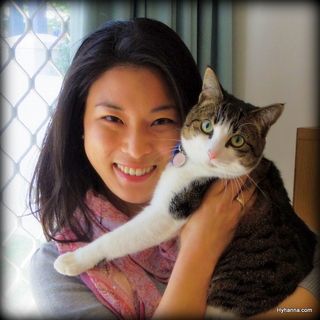 H.Y. Hanna is an award-winning mystery and suspense author, who also writes sweet romance and children's fiction. After graduating from Oxford University with a BA in Biological Sciences and a MSt in Social Anthropology, Hsin-Yi tried her hand at a variety of jobs, before returning to her first love: writing. She worked as a freelance journalist for several years, with articles and short stories published in the UK, Australia and NZ, and has won awards for her novels, poetry, short stories and journalism. A globe-trotter all her life, Hsin-Yi has lived in a variety of cultures, from Dubai to Auckland, London to New Jersey, but is now happily settled in Perth, Western Australia, with her husband and a rescue kitty named Muesli. You can learn more about her (and the real-life Muesli who inspired the cat character in the story) at: www.hyhanna.com.
a Rafflecopter giveaway