Series: Costume Shop Mystery
Genre: Cozy mystery
Mass Market Paperback:

304 pages

Publisher:

Berkley (February 2, 2016)

Language:

English

ISBN-10:

042527828X

ISBN-13:

978-0425278284
Synopsis: Someone is dressed to kill in the debut Costume Shop Mystery from the national bestselling author of the Material Witness mysteries.
No sooner does former magician's assistant Margo Tamblyn return home to Proper City, Nevada, to run Disguise DeLimit, the family-owned costume shop, than she gets her first big order. Wealthy nuisance Blitz Manners needs forty costumes for a detective-themed birthday bash. As for Blitz himself, his Sherlock Holmes is to-die-for—literally—when, in the middle of the festivities, Margo's friend and party planner Ebony Welles is caught brandishing a bloody carving knife over a very dead Blitz.
For Margo, clearing Ebony's name is anything but elementary, especially after Ebony flees town. Now Margo is left to play real-life detective in a town full of masked motives, cloaked secrets, and veiled vendettas. But as she soon learns, even a killer disguise can't hide a murderer in plain sight for long.
FIRST IN A NEW SERIES!
Review: This is the first in a new series, and my first book by this author. I am already looking forward to the next book in this series, and to exploring other of her series as well.

I really loved that the first book in a mystery series about a costume shop featured a detective-themed birthday party (be sure to check the list at the back of the book for all of the detectives represented!). And the whole idea of a costume shop as the main location in the series will provide a huge variety of party themes for future books.
This was a quick easy read, with a few plot twists to throw the reader off track. There is also plenty of humor, as well as the beginnings of backstories for the main characters, which I'm sure will be developed further as the series continues.
Aside from the costume list I mentioned above, there are some other goodies at the end of the story: costume ideas, recipes, and an excerpt from the next book in the series, MASKING FOR TROUBLE. Don't miss any of them!
**I received a copy of this book in exchange for an honest review. All thoughts and opinions are entirely my own.**
Rating: Five stars
About the author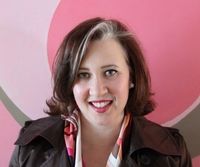 I grew up reading both Trixie Belden mysteries and Vogue magazine and learned how to spot a counterfeiting ring and accessorize a wardrobe. Now I use that knowledge to dream up plots for the Style & Error Mystery Series, the Mad for Mod Mystery Series, and the Material Witness Cozy Series. I still love accessories, only now some of them are accessories to murder.