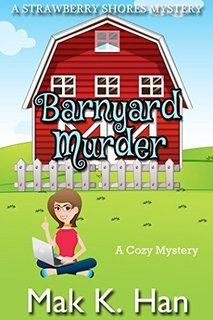 Genre: Cozy Mystery
File Size:

1427 KB

Print Length:

79 pages

Publisher:

Mak K. Han; 1 edition (February 5, 2016)

Publication Date:

February 5, 2016

Sold by:

Amazon Digital Services LLC

Language:

English

ASIN:

B01BIL9ZYQ
Synopsis:
Laura is a librarian living in Strawberry Shores. There has been a murder before, but surely there wouldn't be
another
one so soon, would there?
Laura is back as the sleuth working on her second murder case. With a list of all new suspects, she enlists the help of her trusty sidekicks,
Emily and Alex, to help solve the crime to leave Strawberry Shores safe for tomorrow!
This is a standalone, second book in a sweet cozy mystery series filled with humor, suspects, and lots of books! It also has some mild paranormal elements and is suitable for all ages.
Review: This is a fun easy read. Although it is the second in the series, it is easily read as a standalone book. I have not read the first book in the series and had no problem following this story.
Laura, Emily, and Alex have a wonderful relationship which serves them well in working together to solve this current mystery. The three girls were the last to see the victim alive, making them prime suspects, so they have a vested interest in finding the real killer.
There is a little bit of quirky paranormal to the story....and it's something I've never seen in a cozy prior to this one. This series is equally as appropriate for young readers as well as adults. I look forward to future installments!
**I received a copy of this book in exchange for an honest review. All thoughts and opinions are entirely my own.**
Rating: Five stars
My name is Makenzie "Mak" K. Han and I am from New York City, living the dream!

I have always wanted to be a writer, probably since I was in 5th grade and my teacher said I had one of the most creative minds she had taught. That was I think the most significant moment of my writing career. I love reading as much as I love writing. I hope that my stories are entertaining for you as much as they are for me :).

Like me on Facebook athttps://www.facebook.com/AuthorMakKHan. Sign up for my mailing list for updates and promotions athttp://eepurl.com/bIHqmv (There will be NO spam sent! That is a promise.)