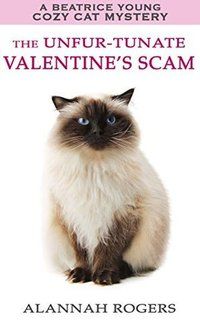 Genre: Cozy Mystery
File Size:

329 KB

Print Length:

94 pages

Publication Date:

January 21, 2016

Sold by:

Amazon Digital Services LLC

Language:

English

ASIN:

B0192DPPBO
Synopsis:
When Abigail Freedman, Beatrice Young's sworn rival, approaches her with a case she's too curious not to take it on. As it turns out, Abby has a very modern romantic conundrum: her Internet boyfriend may be the love of her life ... or a scammer who wants to suck her bank account dry.
It's up to the 62-year-old Cozy Cat Cafe owner and her three crime-solving cats to find this Romeo's identity. Too bad Hamish, Petunia, and Lucky can't help Bee with an even bigger problem: how to sort out her new feelings for ex-husband and best friend Matthew.
No matter what happens, things are about to get romantic in Ashbrook, New Hampshire...
Review: I am a HUGE fan of this series, and this story does not disappoint. I love Beatrice and her cats, as well as the other people around town.
Beatrice is a very independent woman who pours most of her life into her cafe, her cats, and her sleuthing. She is beginning to have romantic feelings toward her ex-husband, but she's not sure what, if anything, she wants to do about them at her age. With Valentine's Day looming, she does some major soul-searching throughout this book.
Aside from her personal issues, Beatrice finds herself investigating someone Abigail has met online, trying to determine whether or not he is a scammer. Although there is no murder to be solved, there are some very tense moments that put Bea's life in danger.
**I received a copy of this book in exchange for an honest review. All thoughts and opinions are entirely my own.**
Rating: Five stars
Guest Post: Beatrice and her love for her cats
When we think Valentine's Day we typically think romantic love. But my latest cozy cat mystery, The Unfur-tunate Valentine's Scam, is all about how different types of relationships are just as important.
The heroine of the story is Beatrice Young, a 62-year-old cafe owner and amateur sleuth who solves local crimes with the help of her three cats: Hamish, Petunia, and Lucky. Beatrice is a single lady, divorced 40 years prior, and her cats are very important to her. Though my sixth book explores Beatrice's feelings towards her ex-husband and her relationships with her friends and co-workers, the heart of these books is always Beatrice and her three felines.
I'm not exactly sure why Beatrice is a huge cat lover. She's probably always been that way: begging her mother for a kitten when she was a child, subscribing to Cat Fancy magazine, trying to charm random strays on the street, and spending parties in the corner petting the owner's kitty cat. Cats always felt like kin to her.
Beatrice is also very independent--she's never had children and she prefers work, friends, and sleuthing to romantic relationships. The cats are the perfect accompaniment to that equation. They fill her life with love and amusement, without the complication of a romantic affair. They go everywhere with her, protect her from bad guys, and join her in her crime-solving activities. That might sound strange to some, but Beatrice is a lady who knows her own mind! Her life with Hamish, Petunia, and Lucky is just perfect for her.
So I guess what I'm trying to say is that while a lot of novels stress the importance of romantic love, the Beatrice Young cozy cat mystery books are all about exploring how our relationships with our pets, friends, co-workers, and family are just as essential, if not more so at times!