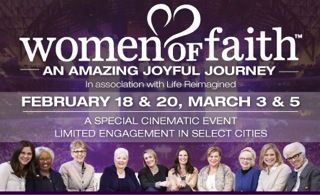 Synopsis:
Women of Faith, the largest producer of inspirational events for women, announces "
Women of Faith: An Amazing Joyful Journey
," the organization's first-ever cinema presentation. With lots of laughter and personal stories, this part documentary/part captured-live stage event features never-before-seen interviews, behind-the-scenes material, musical performances and some of the most beloved and popular speakers from the Women of Faith stage. Fathom Events and BY Experience will present this event Thursday, February 18, 2016, at 7 p.m. local time, with an
encore presentation
Saturday, February 20, 2016, at 12:55 p.m. local time.
Tickets for "Women of Faith: An Amazing Joyful Journey" can be purchased online by visitingwww.FathomEvents.com or at participating theater box offices. Fans throughout the U.S. will be able to enjoy this event in more than 400 movie theaters through Fathom'sDigital Broadcast Network. For a complete list of theater locations visit the Fathom Events website (theaters and participants are subject to change).
This event will take viewers on Women of Faith's journey through the years on stage and of their travels with World Vision, their impact on audiences and the ways they've changed the world. Partly historical, and frequently hysterical, this unique cinematic experience will be packed with some of the most popular pieces from the beloved speaking team to include Patsy Clairmont, Mary Graham, Jen Hatmaker, Nicole Johnson, Marilyn Meberg, Sandi Patty, Luci Swindoll, Sheila Walsh and Thelma Wells, as well as music and performances from Christian contemporary artists who have appeared on the tour.
My thoughts: I attended this movie event last night with two friends from my weekly Bible study. None of us have ever attended a Women of Faith conference and we weren't entirely sure what to expect. We arrived about twenty minutes prior to the start time, and were treated to a preview show of Women Of Faith trivia questions (we had no idea of the answers, but it was fun stuff to learn, for the most part), as well as publicity for new projects: the Dare To Be tour with Natalie Grant and Charlotte Gambill, and the Belong tour, which is the new incarnation of Women Of Faith.

The movie itself introduced us to some amazing Christian women, members of the Women Of Faith team over the years. Each of them has a fascinating story to tell, and each story reminded me that Christian women are not perfect women---we are human beings with flaws who have been forgiven and granted the grace of God. Patsy was agoraphobic, Mary is showing signs of the onset of Alzheimer's, Sheila suffered clinical depression, and Thelma had to deal with the combined "stigmas" of being a Negro and being a child of a single mother.
Sandi Patty's story is the one that means the most to me, as I went through a similar situation in my own life. Divorce and adultery, feeling condemned by fellow Christians--it was a dark, painful time in my spiritual journey. Just as she credits WOF for saving her family, I credit her book BROKEN ON THE BACK ROW with helping me find my way back to close relationship with God (in spite of some of His followers).
Both of my friends were also touched by the stories that were told. One of them said that she was struck by the realization that every one of those women was beautiful from the inside out. The other was so impressed by what she saw that she now has a desire to attend one of their weekends--so that is something we hope to look into doing as another group activity. :)

There are still three more dates for this limited run event: February 20, March 3 and March 5. Check your local theater so see if it is showing near you, and if it is, then gather up your girlfriends and enjoy an evening of laughter and touching testimony.