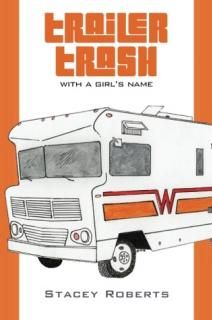 Synopsis: When the author was born, his mother did the unthinkable. She gave him a girl's name—Stacey. But Stacey's name was just the first hurdle he'd face in his uphill climb from birth to manhood. He also had to deal with an entitled older brother, the hodgepodge of different men his mother was involved with, and the nomadic lifestyle he was forced to endure for five years. And to top it all off, his mother couldn't cook a decent meal to save her life. Trailer Trash, With a Girl's Name is Stacey Roberts' lighthearted, often hilarious account of growing up in an unstable household during the 1980s. Full of humor, history, and hope, it follows Stacey from the hospital room where he was born to the Winnebago that carried him across the country, filling in the gaps with a wit and humor that anyone with a dysfunctional family can appreciate. So go ahead and start reading. Once you hop aboard the Winnebago with Stacey and his quirky family, you'll find that you're in for the ride or your life, where what you learn along the way is not only entertaining, but also enormously enriching.
Thoughts:
**I received a copy of this book from the author in exchange for an honest review.**
I'm still trying to figure out how a book can be so hilarious and so sad all at the same time. A lot of the stories included are heartbreaking, but thanks to the author's style and take on them, you can't help but laugh. I know for sure I'll never look at red onions the same ever again!
A great story of overcoming your childhood, not dwelling on the bad things, and turning it into something positive.