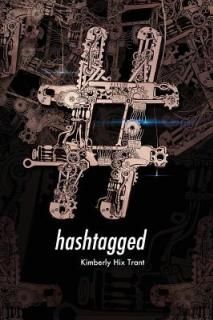 Synopsis: #hashtagged is a chilling new science fiction novel about a daughter's journey through her father's past and into a frightening future. This future is something that Oliver Smith has seen first hand and for which he has been preparing his daughter, Madeline. After Ollie's death, Maddy must follow a trail of secrets that leads her into the arms of her first love, Jagger, the only person that can truly help her fight against a future world governed by artificial intelligence. #hashtagged shows us in terrifying detail the dystopian world we create through every #hashtag, Twitter, and Facebook update.
Thoughts: **I received a copy of this book from story cartel, in exchange for an honest review.**
I have mixed emotions about this book. The first half was rather slow and draggy, to the point where I almost gave up on it. Nearly all the "action" throughout the book is relayed in conversation between the characters, at least until you get almost to the end.
The second half of the book was much more interested, which is why I sailed through it, wanting to find out how it would end. Thankfully, the ending did not disappoint.
The overall story, of time travel and artificial intelligence, is a very compelling one, and it leaves the reader with a great deal of food for thought.