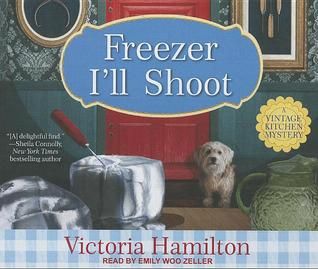 Synopsis: Trying to escape her overbearing mother, vintage kitchenware enthusiast and soon-to-be columnist Jaymie Leighton retreats to her family's cottage on Heartbreak Island. While there she hopes to write an article about the Ice House restaurant, owned by good friends and neighbors, siblings Ruby and Garnet Redmond. Once an actual icehouse, the restaurant is charmingly decorated with antique tools of the trade, including a collection of ice picks.
One night, while working on her article, Jaymie overhears an argument and, ever the sleuth, sets out to explore. But when she stumbles upon a dead body her blood runs cold. It's Urban Dobrinskie, whose feud with the Redmonds is no secret, and he's got an ice pick through his heart. Now Jaymie's got to sharpen her sleuthing skills to chip away at the mystery and prove her neighbors' innocence—before someone else gets picked off.
Thoughts:
I love this series more with every installment...hope there is a new one soon!!! Jaymie's love life is nearly getting to be as complicated as the murders she finds herself solving in each book. After meeting Daniel's mother in this book, as well as finding out Daniel has not been sharing major details of his life with her, I'm almost hoping she chooses not to stay with him after the six months they discussed.
Solving this murder was again, full of twists and turns. Although the actual murder was in fact one of my first suspects, the story had me second guessing myself several times before confirming the truth. Lots of interpersonal relationships, plus you really get a good feel for the area in Michigan where the stories take place