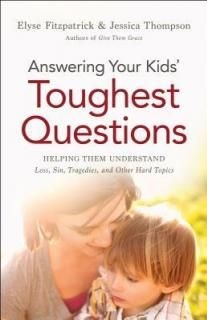 Synopsis: The Honest, Loving Answers Children Need to Hear
It's not easy to know what to say when a child asks about a dying grandma, or the reality of the devil, or some act of violence featured on the news. But ignoring the questions won't help. Elyse Fitzpatrick and her daughter Jessica Thompson carefully walk parents through these difficult conversations, one topic at a time. These experienced moms will come alongside readers, offering helpful hints and age-appropriate guidelines on how much to share and when. And most importantly, they teach how to answer children in a way that points back to the truth of God's amazing love.
Thoughts:
**I won a copy of this book through Goodreads First Reads, in exchange for an honest review.**
I was anxious to read this book,based on the title, and then to pass it on to my daughter for conversations with my 4 yr. old grandson, now and as he gets older. Unfortunately, I was not thrilled with the way much of the material was presented. The beliefs of the author, although obviously Christian, are much more legalistic than the beliefs of this reader. To tell a child, for example, that snapping his fingers is a sin, because it doesn't serve God or love your neighbor, is a bit over the top.
In some areas, I feel the authors went too deep for the age group they were discussing, as in talking to preschoolers about death. Been there, done that, and all they want is to have their specific questions answered, not to hear a sermon about sin and salvation.
The section on homosexuality simply turned my stomach, as I suspected it would by the time I had read that much of the book.
I still intend to pass this on to my daughter, BUT with the same caveat I give when passing on any parenting resource.....use what feels right for your situation, and pass by the rest.
My Rating: Two Stars