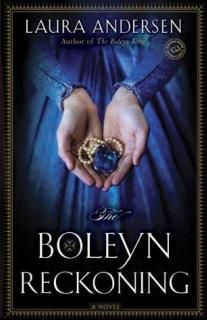 Synopsis:
Perfect for fans of Philippa Gregory and Alison Weir! After presenting readers with an irresistible premise in The Boleyn King (what if Anne gave birth to a healthy royal boy who would grow up to rule England?) and returning to the dangerous world of the Tudor court in The Boleyn Deceit, Laura Andersen brings to a triumphant conclusion the enthralling tale of the Tudor king who never was.
Elizabeth Tudor is at a crossroads. After a disastrous winter, the Duke of Northumberland has been executed for treason while his son, Robert Dudley, claims from the Tower that the true traitor has not yet been caught.
And though her brother, William, has survived smallpox, scars linger in the king's body and mind and his patience is at an end.
As English ships and soldiers arm themselves against the threat of invasion, William marches to the drumbeat of his own desires rather than his country's welfare. Wary of this changed royal brother, Elizabeth assembles her own shadow court to protect England as best she can.
But William, able to command armies and navies, cannot command hearts.
Minuette and Dominic have married in secret, and after an ill-timed pregnancy, they take to flight. Faced with betrayal by the two he loved most, William's need for vengeance pushes England to the brink of civil war and in the end, Elizabeth must choose:
her brother, or her country?
Thoughts:
I was given a free copy of this book in exchange for my honest review. All opinions which follow are entirely my own.
A fabulous ending to this trilogy. We FINALLY got to see Minuette be strong, decisive, and no longer torn between two men. William, like his father before him, was led by his heart and his jealousy throughout this book, and it caused several disasters. My only real disappointment in this alternative history of the Tudor family was the way Mary's story was played out. I've always felt bad for her in the real scheme of things, and this book just made that worse.
All in all, a fascinating book, and series, that I would recommend to anyone who enjoys historical fiction, or the era of the Tudors