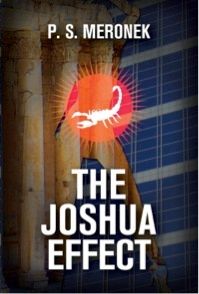 Synopsis: The rooftop reception on the skyscraper in lower Manhattan is an elegant affair right up until the moment the murders occur. With the lives of sixty-three of his friends and business associates snuffed out in one horrifying blink of an eye, the wealthy and enigmatic Jonathan Strickland boards a dangerous roller coaster ride of a lifetime in this clever, nail biting who-done-it.
Following the nebulous clues left behind at the scene of the crime, Strickland finds himself kidnapped and taken to a clandestine meeting in the middle of the Syrian dessert beneath the ancient ruins of one of the oldest civilizations known to man. The lines between good and evil blur as the suspect list narrows. Strickland races against time to find the invisible killers who have even more carnage in mind; they call their sinister plan the Joshua Effect.
Strickland also struggles with the essence of a life thrown into question by the gnawing epiphany that he is losing the one thing which actually gives his existence meaning. All of his fantastic achievements pale when compared with the desire to possess the love of the one woman who can understand him - but who can never be with the man he is.
As the clock ticks relentlessly forward to a catastrophe of truly Biblical proportions, the hunt for those responsible nears its climax. From a brazen gun battle among the rich and famous in the exotic streets of glamorous Miami Beach to the discovery of the secretive Catskills hideaway of a reclusive scientist in upstate New York, the thrilling ride never lets up.
All the while the personal war inside Strickland rages on. Who is he? More importantly, who will he end up becoming? For a man who thought he had everything, why does he suddenly find his life so empty?
For Jonathan, the revelation that a life with nothing in it worth dying for isn't much worth living shakes the very core of his being. Then why does it feel so right? The Joshua Effect is a taut, suspense filled page turner with a stunner around every corner.
Thoughts:
I got three chapters into this one, and was still waiting to be drawn into the story, which just wasn't happening. The writing was too dry for my taste, the main character was more than just a bit of a jerk, and it was not at all what I was hoping for.