Big Hair & Buttermilk Pie:
A Rose Cottage Cafe Mystery
Cozy Mystery
Superlative Media (April 18, 2016)
Print Length: 116 pages
ASIN: B01DL3XZGI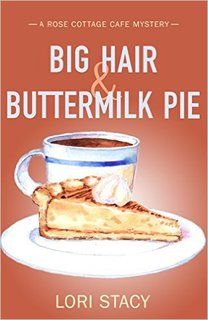 Synopsis:
Mandy Hemphill is living her dream, running the successful Rose Cottage Cafe in Orchardville, Texas, from the ground floor of a converted, old—and possibly haunted—downtown home. She even had plans to grow her business with a new outdoor patio…if only the mayor wouldn't have turned her down.
So when the beloved mayor is found murdered, Mandy finds herself among the suspects. And now business at the cafe is dropping faster than a fallen soufflé. How can she prove her innocence and save the Rose Cottage Cafe?
Thankfully Ben, the new owner of The Orchardville Gazette, doesn't believe she's guilty. As the two of them set out to find the real killer, they uncover one small-town lie after the next. But the closer they get to learning the truth about who killed the mayor, the more in danger they find themselves.
Review: The first book in new cozy series, this is a fun easy read. The only thing that really disappointed me was that, with all the mention of the house that holds the cafe and the newspaper office being haunted, we never got to "meet" Wilcox. I hope that will change in future books.
The story is very well-written, and the characters are extremely likable. Also liked that recipes are included!
**I received a copy of this book in exchange for an honest review. All thoughts and opinions are entirely my own.**
Rating: Four stars
About the author
After her twenty-year career in magazine publishing came to a screeching halt faster than you can say "print is dead," Lori Stacy decided it was time to finally turn the many stories she had been crafting in her head over the years into books.
Lori has authored a number of fiction and nonfiction books for young adults, has written articles for both print and online publications, and has written about hotels for one of the world's leading search engines.
She lives in Texas with her husband and three children. When she is not writing, you can usually find her in the kitchen baking treats (which she says are for her children) or trying to train their hundred-pound golden retriever, an obedience school dropout.
You can find out more about Lori and her latest books at www.loristacy.com, provided she didn't forget to pay her web hosting bill.
a Rafflecopter giveaway