New Series
Cozy Mystery
Lyrical Underground (July 19, 2016)
E-book – 320 pages
ASIN: B01B0KK5P8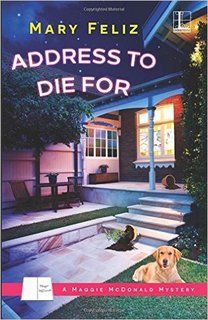 Synopsis: For professional organizer Maggie McDonald, moving her family into a new home should be the perfect organizational challenge. But murder was definitely not on the to-do list . .
Maggie McDonald has a penchant for
order
that isn't confined to her clients' closets, kitchens, and sock drawers. As she lays out her plan to transfer her family to the hundred-year-old house her husband, Max, has inherited in the hills above Silicon Valley, she has every expectation for their new life to fall neatly into place. But as the family bounces up the driveway of their new home, she's shocked to discover the house's dilapidated condition. When her husband finds the caretaker face-down in their new basement, it's the detectives who end up moving in. What a mess! While the investigation unravels and the family camps out in a barn, a killer remains at large—exactly the sort of loose end Maggie can't help but clean up . . .
Review: Another wonderful new cozy series. Maggie is a fascinating, enjoyable character who would make a great friend to have if she were a real person. She likes to keep things organized and ordered, and could teach me a lot. :)
All of the characters are well-developed, and I look forward to getting to know more about them in future books. The various settings are described so vividly that you feel as if you are right there with the characters.
I'm already looking forward to book two, SCHEDULED TO DEATH--you can read an excerpt from it at the back of this book.
**I received a copy of this book in exchange for an honest review. All thoughts and opinions are entirely my own.**
Rating: Four stars
About the author
Mary Feliz has lived in five states and two countries but calls Silicon Valley home. Traveling to other areas of the United States, she's frequently reminded that what seems normal in the high-tech heartland can seem decidedly odd to the rest of the country. A big fan of irony, serendipity, diversity, and quirky intelligence tempered with gentle humor, Mary strives to bring these elements into her writing, although her characters tend to take these elements to a whole new level. She's a member of Sisters in Crime, Mystery Writers of America, and National Association of Professional Organizers. Mary is a Smith College graduate with a degree in Sociology. She lives in Northern California with her husband, near the homes of their two adult offspring. Visit Mary online at MaryFeliz.com, or follow her on Twitter @MaryFelizAuthor.
a Rafflecopter giveaway