When I was given the opportunity to review this book, I was very excited to be able to share it with this little guy--my newest grandson, Lucian, born September 19th. He can't quite focus on it yet, but when he can I am sure he will enjoy it!
Now, let's talk about the book itself.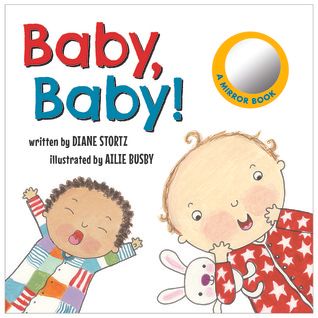 ABOUT THE BOOK "BABY, BABY"
A sweet, colorful board book that appeals to a baby's interest in looking at other babies
Babies enjoy books, looking at other babies, and their own flowering abilities. This short rhyming poem combines all three in a sweet and happy way, while introducing babies to God's love for them. The simple words are paired with colorful images of babies engaging in familiar activities, allowing the book to be used as an introductory concept book as well. And it ends with a reminder that Baby is always loved by God.
REVIEW:
This is an adorable little board book. The illustrations and the text explore all the things that babies do and enjoy...giggles, wiggles,waves, bounces,claps, etc. Each page contains a baby doing the activity mentioned in the text (which is in short, rhyming phrases), and is colorfully done.
The last page contains a large rectangular mirror and reminds the child that they are loved by God. It even has a space where you can write in their name to personalize that fact.
The rhyme and rhythm of the text keeps babies interested and the pictures will keep them engaged (I envision having them mimic the activity shown as they get older). It is also a book that will be easy to read on their own as they progress to that stage of life.
I very highly recommend this adorable and durable book for anyone with babies or young children in their life.
**I received a copy of this book in exchange for an honest review. All thoughts and opinions are entirely my own.**
After more than twenty years in publishing as an editor and editorial director, Diane Stortz now writes best-selling books for children and adults. Her goal: making God's wonders known to the next generation.
Her books include I AM: 40 Reasons to Trust God, Words to Dream On: Bedtime Bible Stories and Prayers, and Say & Pray Bible (all Tommy Nelson); The Sweetest Story Bible and The Sweetest Story Bible for Toddlers (Zonderkidz); A Woman's Guide to Reading the Bible in a Year (Bethany House); and Parents of Missionaries (IVP). Two books for babies and toddlers, Baby, Baby! (Worthy Kids-Ideals) and Say & Pray Devotions (Tommy Nelson) release in Fall 2016.
In 2003 Diane cofounded the National Network of Parents of Missionaries, a non-denominational ministry to help parents of missionaries connect with one another and learn to succeed and thrive as POMs. In 2008 she coauthored Parents of Missionaries: How to Thrive and Stay Connected When Your Children and Grandchildren Serve Cross-Culturally.
Diane blogs at DianeStortz.com. She and her husband, Ed, a retired juvenile court probation officer, have two married daughters and four young grandchildren—all boys! When she's not writing, Diane enjoys walking, gardening, and planning her next trip to visit her grandchildren.
ABOUT THE ILLUSTRATOR

Ailie Busby
has been illustrating children's books for children for more than 15 years. Her work has been published all over the world, including the UK, Italy, France, Korea, and the United States. Her many sources of inspiration include patterns, 1950's children's books, vintage finds—and, of course, her own children. Ailie lives in Newcastle, England, with her husband, two children, two cats, and their newest addition: Queenie, the Fox Terrier.