Tea Cups and Carnage (A Tourist Trap Mystery)
Cozy Mystery
7th in Series
Lyrical Underground (June 7, 2016)
ASIN: B015BCRWQG
Synopsis:
The kettle's about to boil over . . .
The quaint coastal town of South Cove, California, is all abuzz about the opening of a new specialty shop, Tea Hee. But as Coffee, Books, and More owner Jill Gardner is about to find out, there's nothing cozy about murder . . .
Shop owner Kathi Corbin says she came to South Cove to get away from her estranged family. But is she telling the truth? And did a sinister someone from her past follow her to South Cove? When a woman claiming to be Kathi's sister starts making
waves and a dead body is found in a local motel, Jill must step in to clear Kathi's name—without getting herself in hot water.
Includes an excerpt from A STORY TO KILL, Lynn Cahoon's BRAND NEW series.
Review: I'm a big fan of this series, and this seventh book is no exception. All the main characters are back, and in fine form. They seem to be growing with each book, their personalities becoming more well defined. We also get a chance to meet some new folks--but will they be sticking around?
As usual, Jill and Aunt Jackie have some sharply biting, witty exchanges, which add to my enjoyment of the stories. Jill and Greg's relationship is continuing to evolve, and I was very satisfied by the direction it was headed by the end of the book.
The mystery is fast-paced and fabulous! There are secrets, lies, murder, and so much more. The reveal of the murderer was a real surprise after plenty of twists and turns. Can't wait to see what will happen next time!
**I received a copy of this book in exchange for an honest review. All thoughts and opinions are entirely my own.**
Rating: Four stars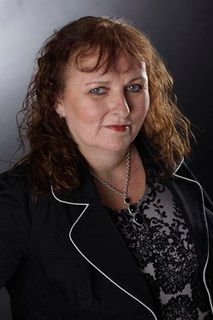 New York Times and USA Today best-selling author, Lynn Cahoon is an Idaho native. If you'd visit the town where she grew up, you'd understand why her mysteries and romance novels focus around the depth and experience of small town life. Currently, she's living in a small historic town on the banks of the Mississippi river where her imagination tends to wander. She lives with her husband and two fur babies.
a Rafflecopter giveaway