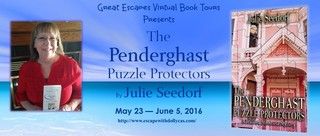 The Penderghast Puzzle Protectors: A Brilliant Minnesota Mystery
Cozy Mystery
New Series
Publisher: Cozy Cat Press (January 20, 2016)
Paperback: 270 pages
ISBN-13: 978-1939816801
E-Book ASIN: B01BDZWAE4
Synopsis:
Jezabelle Jingle and her neighbors in the Penderghast section of Brilliant, Minnesota, have a mystery on their hands. Someone is stealing sections of hardwood floors in their homes and the thefts may be connected to a long-hidden treasure left by the founders of Brilliant. Not only that, there's a dead body in a basement to add to the mix. Can Jezzie and her quirky friends figure out the puzzle and find the treasure before some other, unknown person–maybe the murderer–beats them to the punch? Or will the town's Chief of Police, Hank Hardy, prevent the group from their sleuthing? Anything can happen in the strange little town of Brilliant, Minnesota. After all, brilliant minds create brilliant finds!
Review: A great beginning to a new series! The residents of Brilliant, Minnesota are quite an interesting cast of characters, and I look forward to getting to know them better in future installments of this series.
The lead character, Jezabelle Jingle, is definitely one of my favorites. She's a hilarious woman, and has the sort of personality I hope to exhibit at her age.
The plot of this story is remarkably unique. I don't think I've seen anything like it in any cozy mystery I've read in the past. I can't say too much more about it, though, without giving it away, so you'll just have to read the book for yourself!
**I received a copy of this book in exchange for an honest review. All thoughts and opinions are entirely my own.**
Rating: Five stars
About the author
Julie Seedorf is a Minnesotan. She calls dinner, supper, and lunch, dinner. She has had many careers over her lifetime but her favorite career was that as mother to her children. In later life she became a computer technician, opening her own business. In 2012 Julie signed a contract with Cozy Cat Press for her Fuchsia, Minnesota Series. Books included in that series are Granny Hooks a Crook
, Granny Skewers A Scoundrel
, Granny Snows A Sneak
and Granny Forks A Fugitive
.
Closing her computer business in January 2014 Julie has transitioned to becoming a full time writer adding free-lance work for various newspapers, along with continuing her column Something About Nothing, which is now in book form in a book of the same name released in early 2015. Her children's series, Granny's In Trouble gives her grandkids a hint of the young Grandma underneath the wrinkles.
Her books are light and fluffy and highlight the fact that in the midst of life we have to find the humor in bad situations to keep us going. "We all take ourselves too seriously and we need to have a little fun." Julie secretly yearns to be like the Granny characters in her books.
In February 2016 the first book in the Brilliant Minnesota Series was released titled the Penderghast Puzzle Protectors. She also is part of a group mystery by Cozy Cat Press Authors titled "Chasing the Codex." Julie's serious side is revealed in a story included in the Anthology, We Go On – Anthology for Veterans where the proceeds will go to Veteran's Charities.
Her blog http://sprinklednotes is a little scattered like Granny but lends itself to wisdom and occasional flip flops about life.
a Rafflecopter giveaway