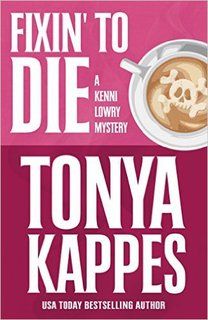 Synopsis:
Kenni Lowry likes to think the zero crime rate in Cottonwood, Kentucky is due to her being sheriff, but she quickly discovers the ghost of her grandfather, the town's previous sheriff, has been scaring off any would-be criminals since she was elected. When the town's most beloved doctor is found murdered on the very same day as a jewelry store robbery, and a mysterious symbol ties the crime scenes together, Kenni must satisfy her hankerin' for justice by nabbing the culprits.
With the help of her Poppa, a lone deputy, and an annoyingly cute, too-big-for-his-britches State Reserve officer, Kenni must solve both cases and prove to the whole town, and herself, that she's worth her salt before time runs out.
Review: Another new series from Tonya, and it looks like it is going to be as great as all the rest! Once again, we are introduced to small-town Kentucky, where everyone knows everyone, and where gossip and busy bodies run rampant.
Sheriff Kenni Lowry is a genuinely likable character, as is the ghost of her Poppa. And Finn, the State Reserve officer, is going to make a perfect romantic interest for Kenni. There are also more than a few supporting characters I look forward to getting to know better through the course of the series.
I was totally surprised by the identity of the killer once it was revealed, but the reveal helped to pull all the clues together so that by the time I was finished reading I fully understood who, how and why,
**I received a copy of this book in exchange for an honest review. All thoughts and opinions are entirely my own.**
Rating: Four stars
About the author