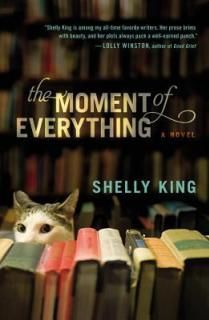 Synopsis: Maggie Duprès, recently "involuntarily separated from payroll" at a Silicon Valley start-up, is whiling away her days in The Dragonfly's Used Books, a Mountain View institution, waiting for the Next Big Thing to come along.
When the opportunity arises for her to network at a Bay Area book club, she jumps at the chance -- even if it means having to read
Lady Chatterley's Lover
, a book she hasn't encountered since college, in an evening. But the edition she finds at the bookstore is no Penguin Classics
Chatterley
-- it's an ancient hardcover with notes in the margins between two besotted lovers of long ago. What Maggie finds in her search for the lovers and their fate, and what she learns about herself in the process, will surprise and move readers.
Witty and sharp-eyed in its treatment of tech world excesses, but with real warmth at its core,
The Moment of Everything
is a wonderful read.
Thoughts: **I received a copy of this book from Goodreads First Reads in exchange for an honest review. All opinions contained in this review are entirely my own.**
This is a great story, centered around a used bookstore and the people who work and shop there. Central to the story is a copy of
Lady Chatterly's Lover
, in which two people, Henry and Catherine, have written love notes to each other. Maggie tries to put together their story, and makes some amazing, heartbreaking discoveries in the process.
The story didn't end the way I thought it would, but that was a good thing. It was not a predictable ending, but it fit with the rest of the novel.
If I were currently in a book club, I would definitely suggest this as a book we should read.
Rating: Four stars