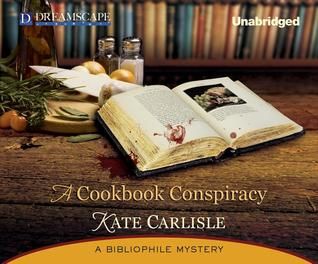 Synopsis:
Brooklyn has always been a little obsessed with food, but it was her sister Savannah who became a chef, graduating from the prestigious Cordon Bleu school in Paris. She and her classmates all went on to successful careers, but none of them achieved culinary superstardom like Savannah's ex-boyfriend Baxter Cromwell. When Baxter invites the old gang to participate in his new restaurant's gala opening in San Francisco, Savannah asks Brooklyn to restore a tattered cookbook as a present for him. Shortly after receiving the gift, Baxter is found dead, with Savannah kneeling over him, bloody knife in hand, and the rare cookbook has disappeared. Brooklyn knows her sister didn't kill him, and she suspects the missing cookbook might lead to the real villain.
Thoughts:
As much as I enjoy cozy mysteries, the main character in this series is really beginning to get on my nerves. If she isn't whining about something, she's behaving as though she can't function without her strong, handsome lover.
That aside, the mystery component of the book was a fabulous one. I had a couple of suspects right away,and was able to narrow it down to the correct one before it was revealed in the book.
The supporting characters, as always, were an enjoyable part of the plot and subplots.
Rating:
Four stars