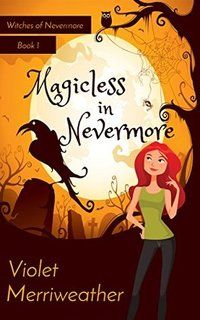 Genre: Paranormal cozy mystery
File Size:

1064 KB

Print Length:

283 pages
Publication Date: July 30, 2016

Sold by:

Amazon Digital Services LLC

Language:

English

ASIN:

B01JE26JD6
Synopsis:
TONIGHT SHE'S GOING TO FIND HER MAGIC OR DIE TRYING—HOPEFULLY IN THAT ORDER. AND WITHOUT DYING.

Cassandra Holly is just your average witch living in Nevermore. Except for the witch part. To be a witch, to stay in Nevermore—and in enchanting distance of her family—she needs to find her magic.

Now.

Against all odds, she does.

Sort of.

FINDING HER MAGIC IS WHEN EVERYTHING GOES WRONG.

Coming into her magic is a dream come true. Stumbling onto a crime scene where the most powerful—and crankiest—witch in Nevermore's history has been murdered? Not so much. Being hired by the witch's ghost to find the killer? Verging into nightmare territory.

Ordinarily, Cassie would have left the crime solving to the experts. But it turns out the ghost is not only well-versed in cranky, but coercion as well, and she isn't going to take no for an answer.

GHOSTLY DESPOT ASIDE, WHAT IF THE MURDER WAS SIMPLY A RED-HERRING?

The more Cassie learns about the murder, the more she realizes something more nefarious is afoot. And if she doesn't figure out the true mystery in time, she'll lose her magic, her family, her home.

And quite possibly herself.
Review: First in a new paranormal cozy series, this is a fun read. There is magic, humor, murder and even romance.
Cassie is an interesting character: she is a bit immature at times, but she is relatable and also grows in maturity as the story unfolds.
The entire town of Nevermore and the premise of a place hidden from the nonmagic folk is fascinating, as are the descriptions of the variety of talents displayed by the inhabitants. Cassie's parents and siblings are an important part of her life, and of the story, as is her good friend Willow.
The cranky ghost of Maude is hilarious throughout the story, but she offers invaluable clues to the solving of her murder.
The final reveal is well done, and quite a surprise. There is also a hint at the end of the second story to come, which I look forward to reading very soon.
**I received a copy of this book from the author with no expectation of a positive review. All thoughts and opinions are entirely my own.**
Rating: Four stars
About the author
Violet grew up on a diet of fables, fiction, and fairy tales. Now that she's older, she's discovered a taste for murder, mystery, and magic. Visit violetmerriweather.com to learn more.