Genre: Young Adult
File Size:

3807 KB

Print Length:

239 pages

Publisher:

Alloy Entertainment - Powered by Amazon (February 23, 2016)

Publication Date:

February 23, 2016

Sold by:

Amazon Digital Services LLC

Language:

English

ASIN:

B0198PZLVA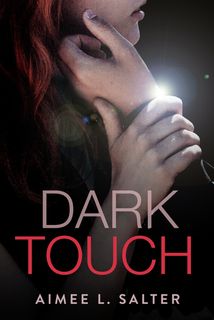 Synopsis:
Tully isn't alone in her skin. Whenever she touches someone, they feel everything she feels. All her ugliness. All her darkness. All her pain.
The only thing she wants is to be left alone—and to finally get out of her small Oregon town.
But then she meets Chris. He's everything she's not. Light. Trusting. Innocent. And he wants Tully.
Tully knows she should spare him the heartache of being with her. But when he touches her, she's not sure she'll have the strength to push him away...
From the author of
Every Ugly Word
comes a poignant, emotionally raw story about the violence that plays out behind closed doors and the all-consuming passion of first love.
Review: This was a tough book for me to read in places, because the life that Tully is living is so contrary to what I believe childhood and adolescence SHOULD be like. It just broke my heart to read about some of her experiences--more specifically, to read about how she accepted them as her "normal."
I don't want to give away plot details, as this is a book you need to absorb fully for yourself. It is fairly dark, but there is always a ray of hope throughout. The characters are amazingly realistic. Even in Tully's darkness, I loved her strength and her determination. Chris started out a tad bit annoying, but as the story progressed, he became much more likable. A few of the characters are downright loathsome, and you may find yourself wanting to smack them around a little!
The story does have a hopeful ending (I won't say "happy" ending, as that implies fairy tale, which this is most definitely NOT), and there appears to be a light at the end of the tunnel for Tully.
If you're looking for something to stir your emotions and give you food for thought, this is the book for you.
**I received a copy of this book in exchange for an honest review. All thoughts and opinions are entirely my own.**
About the author
Born in Oregon, but raised in New Zealand, Aimee L. Salter now lives in Southern Oregon with her husband and son.
Aimee started as a self-published author, but her debut novel was acquired and re-released as
Every Ugly Word
by Alloy Entertainment in 2014. Her second book,
Dark Touch,
is out February 2016, also from Alloy Entertainment.
As well as a writer, Aimee is a wife, mother, and Christian. As far as she's concerned, that means Jesus loved her first, so she can learn to love everyone else. #StoptheHate