Title
:
The Daffodils Still Grow: A Book for Grieving Daughter
Author
:
Sherri Elizabeth Tidwell
Genre
:
Children's Picture Book
Synopsis:
The Daffodils Still Grow is a full-color illustrated book that portrays life after a loved one dies as seen from the observations of a motherless child. "Beautiful and inspiring."
The Daffodils Still Grow
is available at
Amazon
.
Watch a narrated video of the book at
YouTube
.
Discuss this book at PUYB Virtual Book Club at
Goodreads
.
Review: This is a very moving book which is sure to be helpful to any grieving child. It is made even more meaningful by the fact that it is inspired by the author's own diary entries after her mother committed suicide when the author was 14.
The illustrations are colorful, but not overly bright, in keeping with the feelings expressed in the text. They also have a fuzzy, out of focus look, which could symbolize how a child would be feeling "out of sorts" during this time.
Although much of the book is sad, there comes a point where the little girl realizes that life goes on, and that she is the part of her mother that still lives, and that her mother will always be in her heart and in her memories.
I highly recommend this book for any child.
**I received a copy of this book in exchange for an honest review. All thoughts and opinions are entirely my own.**
Rating: Five stars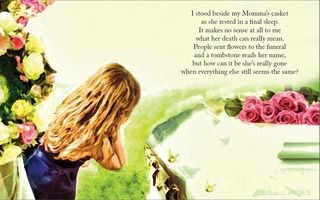 About the author
The Daffodils Still Grow
was inspired by diary entries of the author/illustrator, Sherri Elizabeth Tidwell, after the death of her mother when she was 14. "
My mother committed suicide when I was 14, and after nearly a year of crying and hurting, I was surprised -- almost shocked -- to see the daffodils she planted right before her death still bloom again. It was a big wake-up call to me that, even though she was gone, I could still carry on without her FOR her. Somehow, our loved ones still find a way of communicating with us when we need it the most." Sherri Elizabeth now attends Seton Hill University's MFA program in Writing Popular Fiction. She has a BA in both communications and studio arts from Austin Peay State University.
She hopes that every parent will know how irreplaceable and loved they are to their children and that every child who has lost a parent will know they are not alone. Remember, the daffodils still grow!
Visit Sherri Elizabeth Tidwell's
website
.
Sherri Elizabeth Tidwell is giving away a The Daffodils Still
Grow T-shirt!
By entering the giveaway, you are confirming you are at least 18 years old.
One winner will be chosen via Rafflecopter to receive one The Daffodils Still Grow t-shirt
This giveaway begins February 1 and ends April 29.
Winners will be contacted via email on April 30.
Winners have 48 hours to reply.
a Rafflecopter giveaway