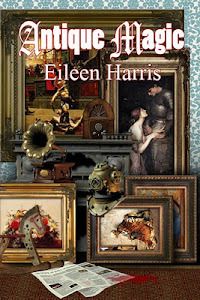 Synopsis:
Antique Magic, is the first in a series about Alicia Trent. She owns an antique store in Scottsdale, Arizona, and has a knack of getting involved with mystery and murder in fascinating environments. Occasionally a little magic occurs.
Antique dealer Alicia Trent is hired to appraise a huge collection of treasures hoarded by a woman who has recently died in the town where Alicia grew up.
The huge old house poses mystery after mystery from the moment she arrives, but the stakes become deadly when murder is added to the mix. The question then becomes, can she stay alive long enough to unmask the killer?
Thoughts: I was very excited to be included in the book tour for this series (review of book #2 to be posted tomorrow), as I love mysteries with amateur sleuths, and there was the added lure of this one having to do with magic. It took several chapters for me to really get into this book, but once I did, it was definitely worth it. There's a murder to be solved, a handful or more of plausible suspects, clues from the murder victim, and a magic bottle that helps Alicia in its unique way. Even the house becomes an integral character in the story with its hidden passages to be discovered. A good book to curl up with on a snowy winter day.
My rating: Four stars