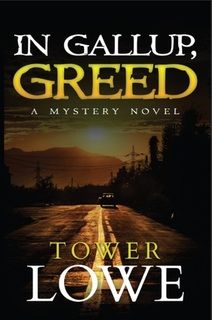 Genre: Cozy Mystery
File Size:

638 KB

Print Length:

280 pages

Publisher:

eiffeltowerpublishers (June 25, 2014)

Publication Date:

June 25, 2014

Sold by:

Amazon Digital Services LLC

Language:

English

ASIN:

B00LBG4TA4
Synopsis:
Lonnie is stabbed to death while his sister, Mirage, is in a black out. Did she kill him? Gallup, New Mexico provides the backdrop for greed, scrambled brains, illicit love, and murder in this mystery thriller. Cinnamon and Burro trail a gallery owner, a young boy with TBI, and a group of greedy young artists through the high desert, looking for a murderer. Burro suffers visions of the crime. Spirits communicate with the suspects. Cinnamon and Burro search for answers and the elusive Momma makes a phone call from the past.
Review: This is the second book in the Cinnamon and Burro series, but it works very well as a standalone story. There are a few references to events from the first story, but not enough to confuse the reader.
The author has a writing style which is very easy to read. There are twists and turns to the plot and you'll want to keep reading to see how it is all going to play out in the end. I had a few guesses as to the murderer and got it right on my third guess, which I made before the final reveal.

I thoroughly enjoyed the entire experience of reading this novel, and would recommend it to anyone who enjoys cozy mysteries.
**I received a copy of this book from the author in exchange for an honest review. All thoughts and opinions are entirely my own.**
Rating:
Four stars
About the author
My namesake, Eiffel Tower Lowe, "burned herself up" in the pink room -- or that's what Daddy told me. The pink room was right down the hall from my childhood bedroom, and there was a fireplace at the end of the bed. Did she burn herself up right there? The gruesome mystery of Tower Lowe haunted me all my life, so I brought her back to life for my quirky mystery stories.