Paperback:

224 pages

Publisher:

Carpenters Son Publishing (September 1, 2015)

Language:

English

ISBN-10:

1942587023

ISBN-13:

978-1942587026
Synopsis:
Is the end of the age closer than we think? Are the two witnesses in Revelation 12 alive today? How would they deliver their message and what would it be? The Beginning is the story of Enoch, taken by God in Genesis, sent back to prepare the world for the second coming. God's Spirit of Wisdom teaches him his mission of revelation. He is given secret mysteries of the Godhead as a sign to the world. Enoch realizes he has a decision to make. Will he accept his mission to reveal to the world God's mysterious ways or reject God's call for his life? As Satan tested Christ in the wilderness, so must Enoch be tested. He must decide by faith which option he will choose. If he accepts God's calling, he knows he must testify of the end of the world and prepare for his own death. Set in New Orleans, The Beginning is a mind and faith challenging story that intermingles science, true historical events, and mystery with Biblical truths.
I also received a copy of the companion study guide.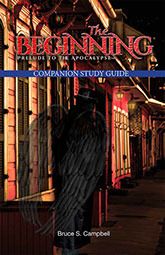 Synopsis:
The companion study guide to
The Beginning
novel is rich with scriptural depth and understanding, making it a valuable tool for Bible study groups, book clubs and other small group settings, in addition to individual study.
The study guide fleshes out paradoxes that are explored in the novel including:
God is One, God is Three
How the feminine is reflected in the Godhead
The Lamb of God
Wisdom and Christ
Law and grace
Why does God allow evil?
Is the Bible full of contradictions?
Science and the Bible
The death paradox
Review: This is a truly amazing book. It reads as a mystery, but it is also much more than that. It is a glimpse into the individual struggle in determining right from wrong. The author also explores questions such as why a loving God allows evil and death.

If you interesting in delving into the questions even further, the study guide is for you. It gives you questions to ponder, Bible verses to read and consider which are tied to segments of the novel.

This is a book which I am shelving to read again soon, as I have a feeling I will find more in it with each reading.
Rating: Four stars
About the author
Bruce S. Campbell has been a pastor, evangelist, and successful business man. He currently runs The Secret Place, an international ministry to ministers. He holds a Bachelor of Arts and a Masters of Divinity degree. Bruce, along with his wife and daughter, reside in Picayune, MS.