Genre: Young adult, science fiction, superheroes
Series: City of Legends
File Size:

3098 KB

Print Length:

226 pages

Publisher:

Alloy Entertainment - Powered by Amazon (February 2, 2016)

Publication Date:

February 2, 2016

Sold by:

Amazon Digital Services LLC

Language:

English

ASIN:

B0198X5T1E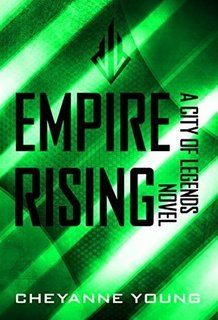 Synopsis:
Eighteen years ago, Maci Knight's family was destroyed when Aurora Falcon killed her mother. Now Aurora's partner, Felix, has kidnapped Maci's brother. For five long months, there's been no sign of Max. His Codex is offline and she can't feel even the slightest trace of his power. Maci refuses to give up hope, but when a new threat on King City emerges, Maci is ordered to abandon her search.
Somehow Felix has managed to do the unthinkable: repower all the villains that Central has depowered over the years. Now they've banded together to get revenge on the Supers who wronged them. What feels like an arduous mission becomes an opportunity when Maci realizes that if she can stop the villains, she can get them to lead her to Felix—and her brother.
In the action-packed conclusion of the City of Legends trilogy, Maci vows to save her city and bring her family back together—no matter the cost.

Review: I read the entire trilogy of books in less than a week, and found it to be a fun, easy read. Reading it took me back to watching superhero cartoons on Saturday morning television.
This series is full of surprises and twists, so that while you may think you know where the plot is headed, nine times out of ten you are going to be wrong. But that just added to the reading enjoyment for me, as I am not a fan of predictable plots.
The characters are well-developed and likable. Maci is not your typical YA heroine with self-confidence issues....she tends to go a little too far in the other direction at times, with a little too much faith in herself and her abilities. Her relationship with her twin sister, Nova, develops well over the course of the series, as they moved from the awkward getting to know you stage into sharing a deep bond and working together as a team. Reading about those transitions added more depth to the series.
There is a subplot involving the relationship between Evan and Maci, and we get to see that grow through the series, but it never becomes the main focus. I enjoyed the interactions between them, seeing their feelings develop.

While all the loose ends are tied up by the end of the third book, I would like to see more stories about these characters in the future.

Rating: Four stars
About the author