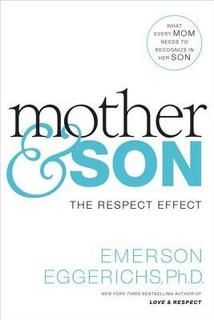 Genre: Christian parenting
Hardcover:

304 pages

Publisher:

Thomas Nelson (April 5, 2016)

Language:

English

ISBN-10:

0849948215

ISBN-13:

978-0849948213
Synopsis:
Love is important but it is respect that is the key to your son's heart.
The idea of moms respecting their sons may sound alien to some, but it seems to ignite curiosity across the board. It is easy to relate to the need for all of us to feel a mother's love, but is that the same thing as respect? Even for young boys, the effect of respect is nothing short of astounding when applied properly.
Moms yearn to learn anything that better helps them with their sons. After all, they love their boys, but many find them more difficult to parent than their girls, especially from age four and up.
What makes this all the more urgent is that moms are coaching fathers to love their daughters, but no one has said boo to moms on specific ways to show respect to their sons, at least not in a way that is applicable and fully explained. All realize that little girls need daddy s love, but who is strongly promoting the truth that little boys (and big ones) need Mom's respect? No wonder mothers feel left in the dark on this topic.
Just as Emerson Eggerichs transformed millions of marital relationships with a biblical understanding of love and respect, he now turns these principles to one of the most important relationships of all, a mother and her son.
For more information: http://loveandrespect.info/mother-and-son-the-respect-effect
Review: While a great deal of the book seems geared toward mothers with young sons, based on the idea of starting to use these techniques from birth, more or less, I still found a great deal of useful information for me as the mother of an adult son. Although I tell him on a regular basis that I love him, and that I'm proud of him for this or that, I don't know that I have ever let him know, in so many words, that I respect him. After reading this book, I have already thought of things I respect about him which I can let him know at various times.
The book is well-written and informative. The information is laid out in easy to read, easy to understand language, and the amount of research put into the subject is obvious.
While I looked at the book mainly from the mother-son perspective, I can also see it being beneficial in a marital relationship, because husbands need to feel respected just as much as sons. I can see this being a resource I consult many times in the future--for my husband, my son, and my young grandsons.
**I received a copy of this book in exchange for an honest review. All thoughts and opinions are entirely my own.**
Rating: Five stars
About the author
As a researcher, Dr. Emerson Eggerichs, who has a Ph.D. in child and family ecology from Michigan State University, garnered the testimonies of thousands of mothers following the release of his New York Times Bestseller, Love & Respect. These moms consistently reported they applied the respect side of the message to their sons with significant effects. Emerson and his wife, Sarah, present the Love and Respect Marriage and Parenting Conferences across the country. Emerson has also spoken to groups from the NFL, NBA, PGA, Navy Seals, and members of congress. He was the senior pastor of Trinity Church in East Lansing, MI for almost twenty years. He and Sarah have been married since 1973 and have three adult children. Emerson also has a BA in Biblical Studies from Wheaton College, an MA in communication from Wheaton College Graduate School, and an MDiv from the University of Dubuque Theological Seminary.