The Madness of Mercury
(A Zodiac Mystery)
Cozy Mystery
New Series
Midnight Ink (June 8, 2016)
Paperback: 312 pages
ISBN-13: 978-0738749129
E-Book ASIN: B01A5OGTRS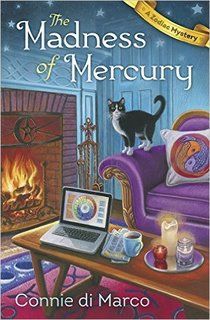 Synopsis:
San Francisco astrologer Julia Bonatti's life is turned upside down when she becomes the target of the city's newest cult leader, Reverend Roy of the Prophet's Tabernacle. Driven out of her apartment in the midst of a disastrous Mercury retrograde period, she takes shelter with a client who's caring for two elderly aunts. One aunt appears stricken with dementia and the other has fallen under the spell of the Reverend Roy. To add to the confusion, a young man claiming to be a long lost nephew arrives. The longer he stays, the more dangerous things become. Is the young man truly a member of the family? Can astrology confirm that? Julia's not sure, but one thing she does know is that Mercury wasn't merely the messenger of the gods—he was a trickster and a liar as well.
Review: I was fascinated by the idea of a mystery series involving astrology, and I was not disappointed by the first book in this series. The story is very well-written, and the characters are realistic and likable.
The author does a great job of integrating astrological information throughout the book, thanks to the main character's work with an astrological advice column and her creating astrological charts for private clients.
I think that is going to be a big draw for me as the series continues.
Julia has a genuine concern for her friends and clients, and that shines through in her actions during the book.
She makes you care about what is happening to them, and to her. And she gets herself into some incredibly dangerous situations along the way.
I can hardly wait for the next book in this series!
**I received a copy of this book in exchange for an honest review. All thoughts and opinions are entirely my own.**
Rating: Four stars
About the author

Connie di Marco is the author of the Zodiac Mysteries from Midnight Ink. She was fascinated by astrology at an early age and this was the inspiration that gave birth to Julia Bonatti, San Francisco astrologer and her newspaper column Ask Zodia. Writing as Connie Archer, she is also the author of the Soup Lover's Mystery series from Berkley Prime Crime. Connie lives in Los Angeles with her family and a constantly talking cat.
a Rafflecopter giveaway