Genre: Political fiction, contemporary, womens fiction
Paperback:

261 pages

Publisher:

She Writes Press (May 13, 2015)

Language:

English

ISBN-10:

1631529781

ISBN-13:

978-1631529788
Synopsis:
Fiery US government teacher Remi Covington is relentless in her desire to impart the genius of the democratic process to her students. Her so-called "academically challenged" high school seniors sometimes find her enthusiasm more than a little annoying—so, in an effort to teach her a lesson, they execute a brazen, high-tech, social media blitz touting her as the newest candidate in the upcoming US presidential race. Much to everyone's surprise, Remi plays along with her students' ruse—and in a nation weary of politics and career politicians, she unexpectedly finds herself the darling of the American public.
As the campaign takes on a life of its own, Remi is forced to confront a myriad of long-held social biases and cultural clichés, and realizes she isn't quite the woman she thought was. Vote for Remi is about a would-be a presidential candidate who, despite being all wrong—the wrong gender, the wrong party, and certainly the wrong social status—discovers that she might be exactly what America needs: someone with a passion for doing what is right.
Review: With all of the political prattle going on these days, this book really hits home with me. Remi and her Do Right Party are a breath of fresh air in a country tired of political rhetoric, campaign promises, and outright lies.

This is a very believable story--well thought out and fully researched. You will find yourself rooting for the underdog, and cheering for how the story ends.
It is hard to believe this is a debut novel, as it is much more professional than many first novels I have read in the past. Here's to a long, productive writing career for Ms. Lehman!
I was given a copy of this book in exchange for an honest review. All thoughts and opinions are entirely my own.
Rating: Four stars
About the author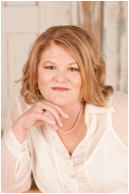 Leanna Lehman is the author of quirky political fiction novel, Vote For Remi (She Writes Press). She worked in the education field for six years, and specialized in developing online educational programs that assist at-risk teens. She lives in Fallon, Nevada, with her rescued dog Henry Higgins, and spends her free time painting, hiking, snowboarding, camping, and traveling to the coast. She found her passion for writing while undergoing chemotherapy in 2008-2009, when she began journaling her experience.