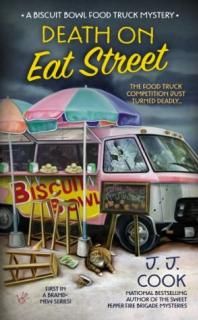 Synopsis: Zoe Chase always wanted to own her own restaurant—but first, she'll have to serve up a heaping helping of meals on wheels, with a side of mystery…
When she's once again passed over for a promotion at work, Zoe decides to take the big leap and go for her dream. She quits, gives up her fancy digs, and buys a fixer-upper diner in a shady part of town. To keep above water during the renovation, she buys a used food truck to serve the downtown and waterfront of Mobile, Alabama.
Zoe starts to dish out classic Southern food—but her specialty is her deep-fried biscuit bowls that blow traditional bread bowls away.
After a promising start, things start to go downhill faster than a food truck without brakes. First, someone tries to rob the cash register. Next, Zoe is threatened by the owner of a competing food truck for taking their spot. And when the owner ends up dead inside Zoe's rolling restaurant, Zoe and her sole employee, Ollie, find themselves hopping out of the frying pan into the fryer. They need to find the real killer, before both of them get burned.
Thoughts:
A great cozy mystery, with a new (at least to me) type of setting---a food truck! Zoe buys a rundown diner, and starts a food truck to raise money to renovate it. Imagine her shock when another food truck driver shows up in her truck---dead! After being taken in for questioning, and then released when someone else is arrested, Zoe decides to start investigating. On top of that, her parents and former boyfriend are trying to talk her into giving up her "craziness" and go back to her old life. Constant action and great dialogue keep the story moving at a rapid pace. It took me quite a while to solve the mystery, which is just how I like it. Now I'm off to read the next book in the series, Fry Another Day!
**I received a copy of this book from the author in return for a honest review. All thoughts and opinions are entirely my own.**