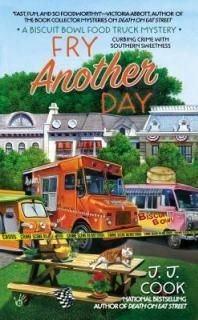 Synopsis: From the national bestselling author of the Sweet Pepper Fire Brigade Mysteries comes the second in a new series featuring Zoe Chase, a Southern food truck chef who serves justice on the side.
With a few loyal friends in tow—including her handsome attorney, Miguel, and her cat, Crème Brûlée—Zoe drives the Biscuit Bowl to Charlotte, North Carolina, to enter a nationally televised food truck race. The contest features challenges across the Southeast, and with a fifty-thousand-dollar grand prize, competition isn't just fierce—it's killer.
As everyone gears up for the first challenge, another food trucker from Zoe's hometown is found dead. The race rolls on, but when the body count rises, police begin to suspect Miguel. Now Zoe must race to catch the killer before her attorney needs an attorney.
Thoughts:
This time around, the Biscuit Bowl gang are part of a nationally televised food truck race. When one of the other food truck drivers wind up dead, Zoe goes into detective mode. As the body count rises, Zoe is anxious to find the killer before she is next, and before Miguel is branded as the killer.
This is another great entry for this series, and a very quick read. It grabs your attention very early on, and keeps it to the very end. Once again, the identity of the killer wasn't easily determined, which is one of the things I like about cozy mysteries.
**I received a copy of this book from the author in return for an honest review. All thoughts and opinions are entirely my own.**
My rating: Four stars