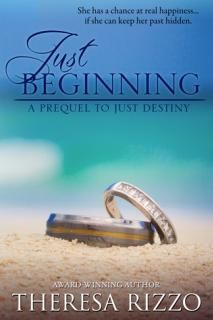 Synopsis:
From award-winning author, Theresa Rizzo, comes this prequel to bestselling Just Destiny.
Twenty-something Jenny Campbell's life has been a series of screw-ups, and the latest one endangered her little brother's life. But when she falls for sophisticated Gabe Harrison, she has a chance to turn her life around...if she can keep her past a secret.
Gabe's career as a successful doctor has left just enough time for his teenage children and little else. But when beautiful, vivacious Jenny comes along, she breathes love and happiness into his lonely life. There's only one problem: their families are opposed to their relationship. Money and age differences mean nothing to Gabe as long as they have trust, love, and respect.
But can two out of three be good enough?
Thoughts:
I'm glad that I got this before I started reading Just Destiny, because now I know the full back story of all the characters. This was a truly sweet story, with just the right touch of drama and humor.
As someone in a relationship where there is an age difference, I've been through some of the same feelings Jenny has in this book--dealing with people presuming your husband is your father, for example. I think that helped make her and Gabe more real to me, too.
While I like Jenny, Gabe, Alex, Ted, Michael and Steve, I have negative feelings toward several characters,as well. George made me angry several times, as did Annie, Judith and Jenny's mother, whose name escapes me at the moment.
Now I can hardly wait to read Just Destiny, which is waiting on my Kindle.
**I was given a copy of this book in exchange for an honest review. All of the above opinions are entirely my own.**
My rating: Four stars