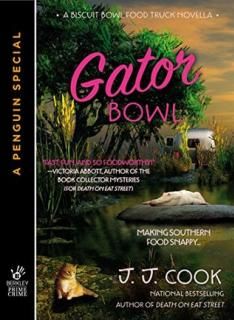 Synopsis: From the national bestselling author of the Sweet Pepper Fire Brigade Mysteries comes a tasty prequel novella to J.J. Cook's new series featuring Zoe Chase, a Southern food truck chef who serves justice on the side.
After quitting her job, the first thing Zoe Chase has to do is to drive out to the swamp to see her Uncle Saul. He still has the old Airstream trailer he once used for his own restaurant many years before, and Zoe is sure she can convince him to let her make a food truck out of it.
After making the perilous journey from Mobile, Alabama into the backcountry, Zoe finds her uncle embroiled in a cook-off with his neighbor—with the life of Saul's albino alligator, Alabaster, in the balance. Once again, the gator has eaten chickens that didn't belong to her. So Saul and his neighbor will each prepare a meal for a church social, and if Saul wins, the gator lives.
Now it's up to Zoe to prove herself in the kitchen and come up with something no one has seen before—the biscuit bowl!
Thoughts:
This is a prequel to the Biscuit Bowl series, which I have not yet started to read. If this novella is any indication, however, I am going to enjoy the entire series. Zoe and her "supporting cast" are a great group of people, and I love the personality of Zoe's cat, Creme Brulee. Her Uncle Saul's albino alligator, Alabaster, is fun to read about as well. I hope that we get to read more about Saul, Alabaster and Bonnie in the future. And I hope Ollie will continue to hang around with Zoe, as well...he seems like the kind of friend you can always use in your corner.

Looking forward to reading the two full length stories in this series in the very near future.

**I received a copy of this book in exchange for an honest review. All thoughts and opinions are entirely my own.**
My rating: Four stars