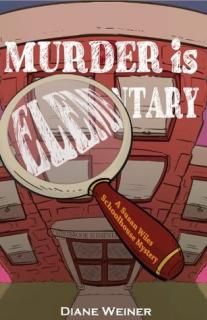 Synopsis:
Susan Wiles is blissfully retired from her career as a music teacher. What a joy to be able to attend the holiday concert without worrying about how her chorus will perform. But wait. Where's the principal? Susan offers to check, only to find the principal lying dead on her office floor. Of course, now that she's retired she has time to help the local police (one of whom is her daughter) solve the mysterious crime. Did the principal die of natural causes? The bruise on her face doesn't seem severe enough to be fatal. What about that funfetti cupcake sitting on her desk? Could she have been poisoned? Susan has just found the perfect retirement activity, much to her daughter's chagrin. And when the principal's teenage daughter, one of Susan's all time favorite students, asks for help - how can she say no? Little does she realize that this crime will take her far from the schoolhouse doors, as she investigates a mystery that extends back into one family's painful past.
Thoughts:
This is a brand new cozy mystery series, and I am thrilled to have found it. The main character, Susan, is a retired elementary music teacher, and her daughter, Lynette, is a police detective. Retirement leaves Susan with way too much free time, so when the principal of her former school is murdered, she begins to investigate on her own, which annoys Lynette's partner, Jackson. All of the characters are very realistically written, and the subplots are all wrapped up nicely,with a few twists thrown into each one along the way. (I also love that Susan has two cats named Johann and Ludwig!)
My only problem with the book is that there was a little too much "telling" and not enough "showing" in the writing style. There were also some editing issues that slipped through and distracted me momentarily. Overall, however, it is a great first novel. Can hardly wait to read the next one, "Murder is Secondary."
My rating: Four stars