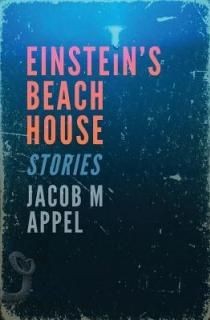 Synopsis:
A couple adopts a depressed hedgehog; a stranger shows up, claiming to be the father of a girl's imaginary friend; a woman kidnaps her ex-husband's turtle; a family is evicted from their home, but was it ever really theirs? Heartbreaking and hilarious, the eight stories of Einstein's Beach House examine how we deceive ourselves and others, all to arrive at something far more real.
Thoughts:
**I received a copy of this book from the author in exchange for an honest review.**

This was an amazing collection of short stories. Appel takes seemingly ordinary situations and people, and twists them just a little off center. There is a family who has a sex offender move in next door, a couple adopts a hedgehog who suffers from bipolar disorder, a man dating a woman who shares custody of a tortoise with her ex-husband,a woman meets the father of her daughter's "imaginary friend," etc.

Each story left me turning the page eagerly to read the next one, and I was sad when I came to the end of the last one. This was my first exposure to this author, and I look forward to reading more in the future.
My rating: Four stars.