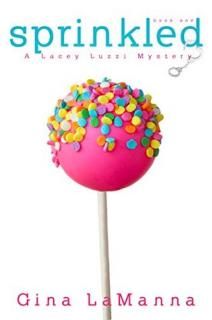 Synopsis:
Lacey Luzzi's life has been a rollercoaster consisting of the highest of highs and the lowest of lows. She just never expected the lows to be so… sparkly.
After falling on her face during an attempt to follow in her recently-deceased mother's stripper-boots, Lacey realizes she's not cut out for life on stage. She sets out on a year-long investigation to find her true family, never expecting she'll find her family with a capital "F."
With a rumbling stomach, a need for money (check engine lights don't fix themselves), and a conscience that operates at 78% on a good day, Lacey is sucked into a whirlwind of Family secrets, hard-as-cement cookies, and mysterious, sexy men who unfortunately shoot guns, sometimes aimed at her face. The long-lost-granddaughter of the St. Paul Italian Mafia, Lacey is charged with the task of finding fifteen million dollars of 'the good stuff.'
Even after she enlists the help of her mouthy best-friend and her cousin, a technical genius and social disaster, she finds that going toe-to-toe with the rival Russian mob is scarier than expected.
No one chooses their Family, but Lacey Luzzi will be lucky if she can survive hers.
Thoughts:
This story's style reminds me of Evanovich's Stephanie Plum stories. The main character, Lacey, is just as adorable and just as much of a trouble magnet.
The writing is very good,and the characters are well defined. There is humor "sprinkled" throughout, as well as plenty of action.
I expect this to become a favorite series among cozy readers over time.
**I received a copy of this book from the author in exchange for an honest review.**
My rating: Four stars