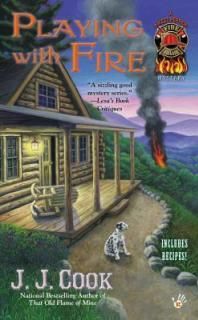 Synopsis:
Welcome to Sweet Pepper, Tennessee. Nestled in the Great Smoky Mountains, it's home to the hottest and sweetest peppers in the world—as well as at least one ghost and a hotbed of secrets…
GETTING WARMER
Fire Chief Stella Griffin is working to solve the mysterious death of her predecessor, Eric Gamlyn—who also haunts her cabin. Yet the more she learns, the more burning questions she must answer. Just as Stella thinks she has a lead from Deputy Chum, someone snuffs her hopes—and the lawman.
Adding fuel to the fire, Stella's parents soon arrive—with her ex-boyfriend—hoping to persuade her to return to Chicago. Now Stella is torn between the life she left behind and uncovering what happened to her ghostly friend. But she'd better think fast or more than her investigation could go up in flames…
Thoughts:
**I received a copy of this book from the author in exchange for an honest review. All comments and opinions below are entirely my own.**
This book picks up where the first one left off, with everyone in town trying to solve the mystery of the previous fire chief's murder. Stella can't seem to keep herself from getting involved in the investigation, no matter how many people warn her against it.
When her parents show up for a visit, bringing along her cheating ex-boyfriend, the cabin she shares with the ghost of the former fire chief gets a little too crowded and tension-filled. The three guests are trying to talk Stella into going back to Chicago, but she can't make up her mind whether to stay or go.
Another well written story. I love the interaction between Stella and Eric. The cliffhanger in this one had me rushing right on to book three, In Hot Water.
My rating: Four stars