Telling Tails (Second Chance Cat Mystery)
Cozy Mystery
Series: Second Chance Cat Mystery (Book 4)
Publisher: Berkley (January 3, 2017)
Mass Market Paperback: 304 pages
ISBN-13: 978-1101991206
E-Book ASIN: B01E4WAHRA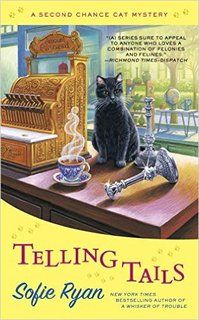 Synopsis:
The New York Times bestselling author of A Whisker of Trouble returns as secondhand shop owner Sarah Grayson and her rescue cat, Elvis, get caught up in a case of she said, she said....
When Sarah Grayson opened a secondhand shop in the quaint town of North Harbor, Maine, she was expecting peace and quiet. Then she was adopted by a rescue cat named Elvis and a kooky trio of senior sleuths known as Charlotte's Angels. Now she has nine lives worth of excitement…
Sarah's friend and employee Rose is delivering a customer's purchase when the quick errand becomes a deadly escapade. Rose arrives just in time to see the customer murdered by his wife, but before she can call the police, she is knocked out cold. When she wakes up, no one believes her, especially after the woman claims her husband is very much alive and has left her for someone else—and has a text message and empty bank account to prove it.
Despite her convincing story, Sarah is sure something is fishy—and it's not Elvis's kitty treats. Sarah, Elvis, and the Angels are determined to unravel this mysterious yarn, before the feral killer pounces again.
Review: This is another great entry in this series. The supporting characters are just as important to the story as the main character...and Elvis, the cat, does his job as a furry lie detector yet again.
There is more than one mystery to be solved this time around. Did Rose really see what she thinks she saw? If she did, where is the body, and who was the killer? If she didn't, then where is Jeff, and who was/is the other woman?
One of the drawing points for me with this series is that Charlotte's Angels are all older women...and they never let their age get in the way of doing what they want/need to do.
The plot takes some unexpected twists along the way, and the reveal surprised me, although I had part of the mystery figured out.
I accepted a copy of this book with no promise of a positive review. All thoughts and opinions are entirely my own.
Rating: Four stars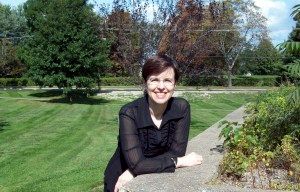 Sofie Ryan/Sofie Kelly is the pseudonym of author and mixed-media artist, Darlene Ryan. Sofie/Darlene lives on the east coast with her husband and daughter. In her spare time she practices Wu style tai chi and likes to prowl around thrift stores. And she admits to having a small crush on Matt Lauer.
a Rafflecopter giveaway