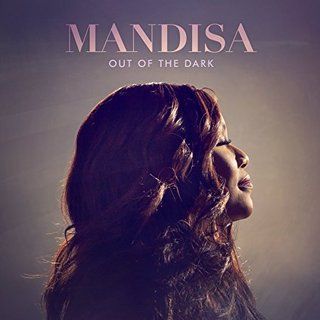 Audio CD

(May 19, 2017)

Number of Discs:

1

Label:

Sparrow

ASIN:

B06XSKTDK9
Mandisa wrote her song "Overcomer" in 2013 to encourage her close friend Kisha, who was battling breast cancer. Mandisa really believed and prayed that God was going to heal her, but when Kisha went to be with Jesus in 2014, Mandisa's foundation was shaken in a way she never expected. She fell into a deep pit of depression for close to 3 years, shutting out her friends, family and the rest of the world. Mandisa believes if she had kept going down that road she was on, she would not be here today… but God stepped in and lifted her out of that pit by using her close friends to communicate their love for her and God's love for her. This album is Mandisa's way of letting her fans into her story – it's called 'Out Of The Dark' because that is exactly where God lifted her out of!
TRACK LIST
01. Voicemail (Intro)
02. I'm Still Here
03. Out Of The Dark
04. Unfinished
05. Bleed The Same (Intro) (feat. Kirk Franklin)
06. Bleed The Same (feat. TobyMac, Kirk Franklin)
07. Comeback Kid
08. What You're Worth (feat. Britt Nicole)
09. Dear John Praise Report
10. Good News
11. Prove Me Wrong
12. MothDisa (Interlude)
13. The One He Speaks Through
14. Shine
15. My First Love (feat. Jeremy Camp)
16. Shame Off
17. Keep Getting Up
18. Back To Life
Review: There is SO much emotion in this CD. Every time I thought I had found my favorite song, the next one would touch my heart again....so I'm in love with every track! I do have to say that PROVE ME WRONG, which talks about the things that caused Mandisa's depression and doubt, is probably the one that spoke to me the most. It is so honest and beautiful. Another favorite is BLEED THE SAME, with TobyMac, which deals with the racial tensions in our country these days, and reminds us that on the inside, we're all the same.
This CD helps to remind all of us that even the most devout Christian can have their moments of doubt and temptation...those times when we're in a pit of despair, not seeing a way out and not knowing if He is still listening to our cries. It also reminds us that He is ALWAYS there, and He will always help us.
It's been four years since Mandisa's last album, but it has been well worth the wait. Welcome back, and God bless you for sharing your journey with us!!
Thanks to Capital Records and Flyby Promotions for providing me with this CD.
Rating:
Five stars
About the artist
Mandisa Lynn Hundley, known professionally as Mandisa, is an American gospel and contemporary Christian recording artist. Her career began as a contestant in the fifth season of American Idol, in which she finished in ninth place.